Loading up abilities on a hotbar is probably one of the more mundane aspects of many MMORPGs. However, Crowfall power selection is not only a way to customize previously unadaptable Archetypes, but will also pave the way for things to come according to a recent dev blog post.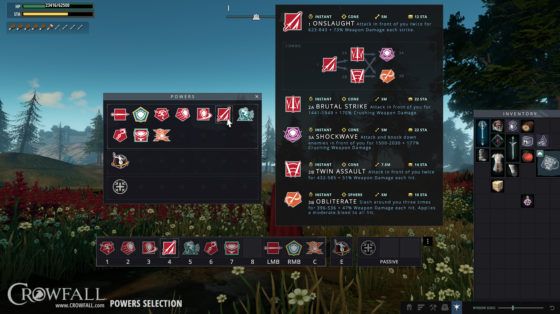 Powers in Crowfall are broken up into three different categories: Active, Passive, and Retaliate. Actives and Passives are generally self-explanatory, but their arrangement on the hotbar is unique in that players can slot eight Active skills, three Passive skills, a Retaliate, left and right click attacks, and one "C" Skill meant for an Ultimate attack.
Passives that are not slotted in won't bestow their benefits, so loading up the appropriate part of the bar is important. Additionally, players who have the Expansive Mind minor discipline will get two more power slots.
While the system itself is unremarkable to the genre, the post hints that the new feature makes the upcoming Disciplines system. You can read up more about the ability to customize your Archetype loadout on the game's official site.
Our Thoughts
The major takeaway from this reveal is the arrival of Disciplines, which could mean more customization of each Archetype and, ideally, more personal choice in selecting a loadout. Of course, this also brings the potential for meta demands imposed by the playerbase; if you can get ten action buttons instead of eight, why wouldn't you? We'll have to simply wait and see how this will all play out.
Source: official site
Articles Related to Crowfall
Checking In with Crowfall's Big World
Crowfall Eternal Kingdoms Feature Detailed in Video
Crowfall Introduces the Fae Assassin Archetype
Related:
Crowfall
,
News
,
Sandbox MMO
,
Skills