It was a big ol' announcement and a lot of design documents before, but now the Crowfall race and class split is coming together in the game's internal build and lead designer Thomas Blair appears to be eager to share how the dynamic new system change is coming along.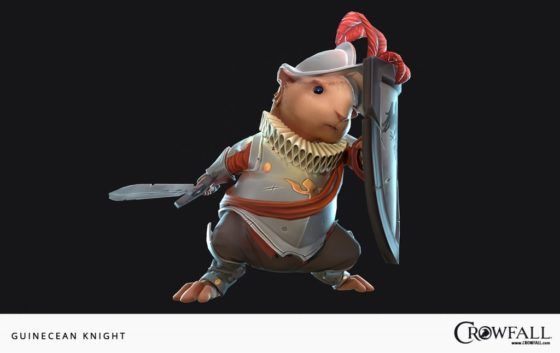 According to Blair, making sure the split was in at launch was important in order to inform the rest of the MMO's design as well as to make sure player expectations were appropriately set. "[The split is] a foundational system. If we launched without it, we'd pretty much be locked to Archetypes forever," writes Blair. "Now that we've reset that assumption, we can start with a list of initial Race/Class combinations and add more options over time."
What are those options looking like? An updated chart offered details of which races are getting which class, including color coding of which ones are ready for male and female models and which ones are playable at this moment. Among the combinations that are complete are the Guinecean Knight, the Minotaur Ranger, and the Elken Cleric. "That's right! Your murdeer can now pick up a hammer and shield and chuck it like Mjolnir to smash his enemies and watch them scatter," exclaims the post.
The team continues its development on the new combos and hopes to have them available on the game's Test environment soon. After that, the majority of the combinations that are planned for launch should be available in update 5.3.
Our Thoughts
We're not sure which is better: the Guinecean Knight, or the portmanteau of "murdeer". Regardless, we're very much eager to get our hands on these new combat options. Mostly because the Guinecean Knight is adorable.
Source: official site
Articles Related to Crowfall
Gamescom 2017: Crowfall's Q&A Session Offers Dev Insights
Crowfall Talks Game Systems in Latest ACE Q&A
Crowfall Adds New Building Objects to Eternal Kingdoms
Related:
Class
,
Crowfall
,
Dev Blog
,
News
,
Race
,
Sandbox MMO