It's the final day of the so-called Crowfall Teaser Week, an entire five days' worth of teases for a previously announced "massive" reveal. Today's tease ends much in the way it started: with concept art and a piece of lore from the upcoming MMO.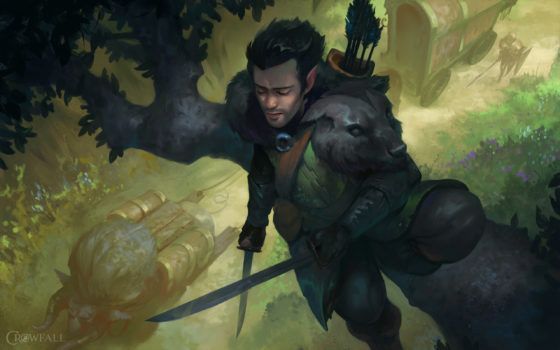 The reveal today closes out several days of vague hints with a story about an Elf comparing humanity to an invasive, creeping vine. Other reveals over the course of the week include scenery shots and weapon concept art, some new UI elements (and the always-delightful Guinecean in heavy plate), and a variety of icons.
With five days wrapped, all that remains is to wait for the final word on just what the team has planned. This reveal will be made on Tuesday, May 16th, though there are still no specifics on what time this reveal will arrive.
Our Thoughts
Our guess? It might be Advanced Archetypes. Though on the same front, it's also possible that the game will be expanding its testing pool or entering its next phase of testing. Considering the idea of a pervasive vine growing, it's certainly a thought. What are your best guesses?
Source: official site
Articles Related to Crowfall
Crowfall Teases a "Massive" Update
Crowfall Eternal Kingdoms Feature Detailed in Video
Checking In with Crowfall's Big World
Related:
Crowfall
,
News
,
Sandbox MMO
,
Teaser