We've had Crowfall tease us with things before: the game's initial announcement, the Vessels system, the partnership that would bring the MMO to Europe. Today, however, the team is offering up another carrot on a stick. And this one, they say, is a "massive" update.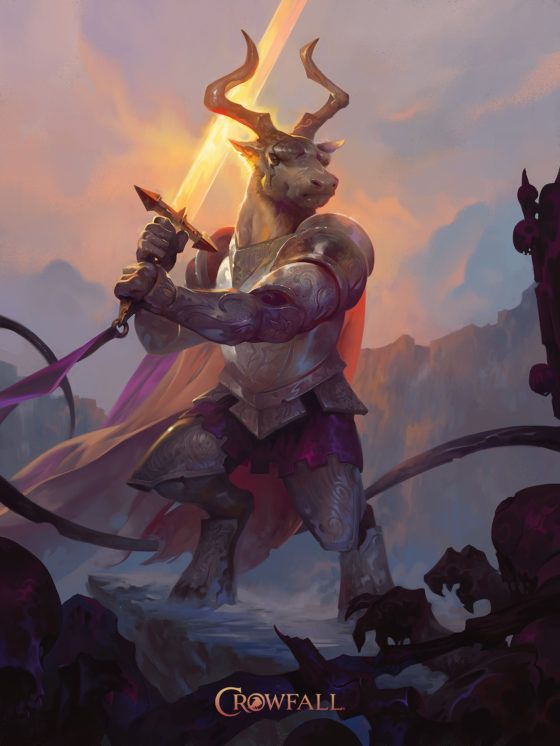 Here's all we've got to go on so far, from the desk of creative director J. Todd Coleman:
"Next week, starting on Monday, we're going to start releasing teasers for it. This is an incredibly cool update, so as we have done in the past, we're going to have a bit of fun with it… I will go ahead and say right now: you're not going to believe it. And you're going to love it."
During the Epic Week of Teases, Crowfall will be issuing daily updates instead of the normal Tuesday/Thursday update schedule. These teases will include one or a combination of info pieces like concept art, new lore, new screenshots, or design tables. It will all lead up to the final reveal on Tuesday, May 16th. The first of these teases is the above concept art of a D'Orion wielding a massive blade.
Our Thoughts
As Mr. Coleman has said, "Let the rampant speculation begin!". Of course, one picture isn't really a lot to go on, but it certainly does lead one to immediately thinking that we're going to perhaps see either a new Archetype or the expansion of Archetypes to other Pantheon members. Only time will tell at this point, but we're most definitely curious!
Source: official site
Articles Related to Crowfall
Crowfall Gender Variants of Assassins and Druids Previewed
Crowfall Power Selection Brings Custom Skill Options
Crowfall Eternal Kingdoms Feature Detailed in Video
Related:
Crowfall
,
MMO
,
News
,
Teaser
,
Update