There are some MMO players who prefer to have their PvP full of sneaky tricks, traps, and backstabbing. According to this Crowfall Assassin footage we've found online, ArtCraft's spin on the melee sneak-attacker will have all of that in spades.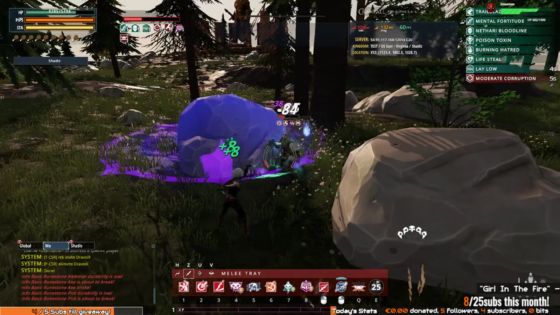 Footage from the Test build of Crowfall broadcast by Twitch streamer Shadiz offers a long and in-depth look at the Assassin in action with several one-on-one engagements against another Assassin character along with looks at many of the skills available to the class.
The Assassin class is part of the 5.4 build of Crowfall, which became available as of this past Friday. The test also included the male Ranger, adjustments to crafting, and the first pass of the Sacrifice System. While the test build has no active Campaign, skills and Eternal Kingdoms were made available.
The complete patch notes for the Test build are here and you can see the Assassin in all of its spinning, stabbing, and dodging glory below.
Our Thoughts
It definitely looks like the Assassin is perhaps harder to kill than would be assumed. It also doesn't look like the Stealth mechanic is quite working just yet…which is to be expected from a pre-alpha build, to be fair. Overall the Assassin definitely looks like an intriguing class.
Sources: Twitch, official forums
Articles Related to Crowfall
Crowfall is Adding a Secondary Advancement System
Crowfall Pushes Back its Soft Launch Date
Crowfall Outlines its 'Action Harvesting' Model
Related:
Crowfall
,
News
,
Pre-Alpha
,
Sandbox MMO
,
Video