It's the start of "massive reveal teaser week" for Crowfall, and the first day offers up some mysterious lore details focused on the Frostweaver archetype. The post includes a new piece of concept art as well as a master's response to an apparently impatient student.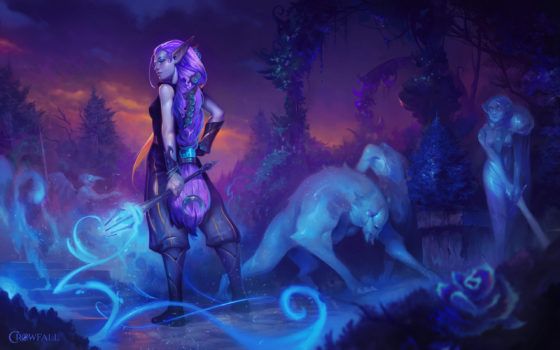 The lore piece ruminates on the question of what the opposite of fire is. According to the sage speaking in the piece, it's not what you perhaps think:
"Fire is the action, Smoke the result. In the same way, ice is not the action. The opposite of fire is frost. Frost is the action, ice the result. The Godsong has two parts:The Song of Creation, music that flows and shifts with the power of Chaos, and the Words of Power, unchanging incantations of Order that bind our world together.

Seek a new master. Perhaps your wandering intellect would do better with the former. It is clear you have no the mind for the latter."
As alluded to previously, the teases in question are being left extremely vague on purpose as the team decides to have a little bit of fun stringing fans along. You can soak up the complete atmosphere of the first tease on the official Crowfall website.
Our Thoughts
Considering the words of this master and the image that was offered at the initial announcement, it definitely seems like this new reveal will be focused on the Archetypes and their greater power. Perhaps there are alternate Archetypes coming? Or perhaps Advanced Archetypes? What do you think?
Source: official site
Articles Related to Crowfall
Crowfall Teases a "Massive" Update
Crowfall Eternal Kingdoms Feature Detailed in Video
Checking In with Crowfall's Big World
Related:
Crowfall
,
News
,
Sandbox MMO
,
Teaser