What do you get when you mesh an FPS, a monster-killing bounty hunt, and PvP survival? You get the Hunt: Showdown announcement, a new game revealed by Crytek that is soon heading into Steam Early Access.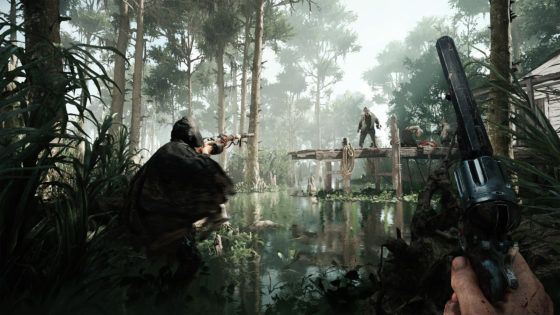 Described as a "competitive first-person bounty hunting game with heavy PvE elements", Hunt: Showdown has players arriving to a map either solo or in pairs, tracking a monster bounty, bagging the kill, and then escaping the map with the bounty alive because once a bounty has been earned, you become a target for everyone else…and death is permanent, whether it's by the hands of others or the claws of critters.
Hunt will be landing on Steam Early Access sometime soon and will run for approximately 12 months according to the game's Steam page. Development will introduce additional gear, monsters, maps, modes, and crafting. "We want to take the time to make Hunt the game we've always wanted to play," remarks creative director Magnus Larbrant.
You can watch a trailer of Hunt: Showdown below.
Our Thoughts
So it basically sounds like the Dark Zone PvP of The Division meshed with Bloodborne's creep factor and the Old West. Sounds like a pretty tangy cocktail to us, and a reasonably unique game for multiplayer FPS fans. Tell us your impressions of this one in our comments!
Source: press release
Articles Related to Hunt: Showdown
The MMO Alpha and Beta List: October 13, 2017
Wild West Online Hunts Bounties in Gameplay Video
Games Like Monster Hunter
Related:
Hunt: Showdown
,
Multiplayer
,
News
,
PvE
,
PvP