We first encountered The Darwin Project at PAX East last year and were struck by the game's unique gameplay mechanics. Since then, the battle royale genre has gotten a lot more crowded, so in the interest of ramping up interest, plans for The Darwin Project free to play have been announced.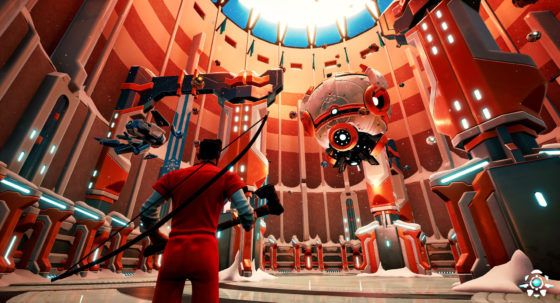 In the announcement post made to the game's Steam page, creative director Simon Darveau outlined the pretty simple reason for the switch:
"Lately, members of our community have reported longer queue times and difficulty finding matches in lesser populated servers. To bring in new players and maintain a level of activity that ensures players are able to get the most of out Darwin Project, we've decided to make it more accessible by removing the price tag."
In spite of The Darwin Project's apparent smaller playerbase, the game still has a few angles that make it unique as Darveau states in the post. Features such as the player role of a Show Director that controls when things happen on the map and viewer interactions with the game during livestreams are part of "a quality experience unlike any other battle royale game out there."
If you're among one of those who bought in to The Darwin Project, you're going to be gifted a number of things in thanks, including legendary equipment sets, axes and bows; every color of jumpsuit in the game's rainbow; and five Fan Gift boxes. If you're looking to get a refund instead, however, you can, though several remarks in the comments section of the announcement suggest that there are issues with the refund process. The devs are looking into the matter.
Our Thoughts
We're not terribly surprised, all things considered; the battle royale market suddenly erupted shortly after The Darwin Project got itself out there and the game appears to have been overshadowed pretty mightily. Here's hoping that fans of this game will see an uptick in player numbers (and thus see lowered queue times) with this switch.
Source: Steam
Articles Related to The Darwin Project
PAX East 2017: The Darwin Project Hands-On
The Darwin Project Game Page
The MMO Alpha and Beta List
Related:
Battle Royale
,
Free to play
,
News
,
The Darwin Project