The Daybreak Games connections puzzle continues to be worked out, but this time around there's either some positive information or more bafflement to be had depending on your point of view. An intrepid individual has unearthed some tax papers that seems to at least partially corroborate DBG's statement about who owns the company, while Lord of the Rings Online and Dungeons & Dragons Online offered some words regarding the whole palaver.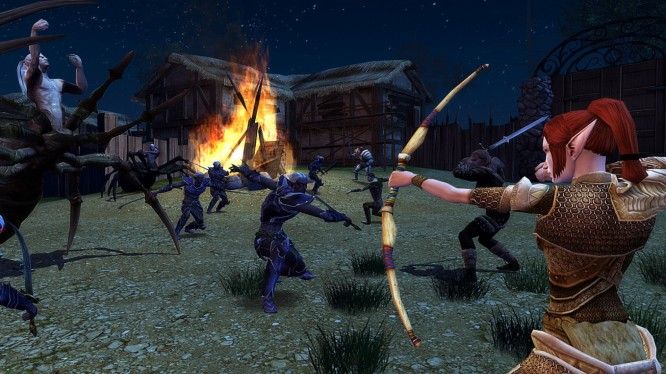 A Twitter user by the name of MSandersonD started rummaging through tax websites for the state of Texas and found a number of pieces of information and compiled them into a single tweet thread. One tweet shows a public information report dated 2018 for Daybreak Games Austin that lists Jason Epstein as manager.
MSandersonD also found 2016 tax filings that show Epstein as 100% owner, and 2017 tax filings that lists a split ownership of the company – 90% Inception Acquisitions Holdings LLC, based in Delaware; and, rather confoundingly, 10% Sony Interactive.
These are the 2017 tax filings. Note it now says 90% owned by Inception Acquisition Holdings LLC based in Delaware and 10% Sony Interactive Entertainment. Yes that's right, 10% SONY. Confusingly this also lists Inception Acquisition LLC as 100% before that. pic.twitter.com/ByqtyAdvOV

— Scott (@MSandersonD) April 25, 2018
As for LotRO and DDO, Standing Stone Games – a developer whose games are published by Daybreak – did offer a brief statement on the matter, assuring fans of both MMOs that they would continue to run unimpeded.
"In regard to some kind of state department-issued thing with Columbus Nova and all that sort of thing, we're not really involved. All I can do is point you to the information that's already been released by Daybreak Games. We're not really involved and we don't think it's going to have any impact on us."
Our Thoughts
Ideally, all of Daybreak's MMOs will continue to run regardless of what has happened between it, Columbus Nova and the US Department of Treasury. Fans should definitely be allowed to continue to enjoy their games as long as possible. We would like to offer thanks to the tipster who took the time to find this new information. Still, that does make the company's official response rather baffling, nevermind their apparent attempts to remove previous statements.
Sources: Twitter with thanks to MSandersonD for the tip, Massively Overpowered
Articles Related to This Story
Daybreak Games Chief Publishing Officer Leaves the Company
$2B Worth of Assets from Russian Company Columbus Nova Frozen, Daybreak Claiming No Affiliation
Standing Stone Games Absorbs LotRO and DDO Teams
Related:
Daybreak Games
,
Games Industry
,
MMORPG
,
News