Back in September, the devs talked about DC Universe Online stat changes intended to make the game's stats more flexible and easier to read. The first pass of these new changes has now become available on the test server.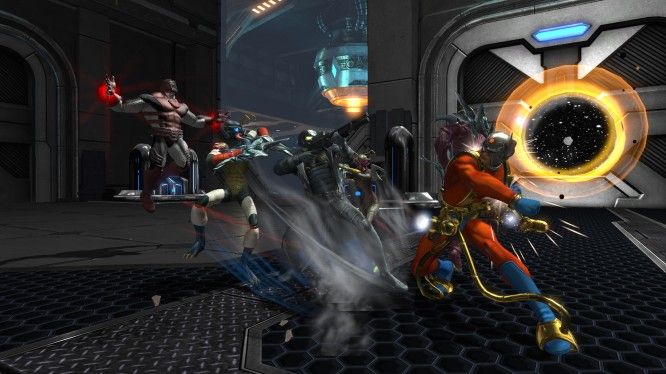 According to a forum post discussing what to expect for those entering the Test Realm, this first-playable version of the stat changes are in a very rough state in order to collect feedback. "This build is much earlier in the development process than we usually would expose to the public test server – so there will be issues, and that's the point," reads the post.
The current application of the stat changes are available to Ice, Mental and Electricity powersets. The devs are asking players to naturally progress through level 1-30 content and note how powers feel, which powers feel overpowered or underpowered, and which are not functioning properly. The devs have also noted that the stat adjustments are broad in scope, and fights or bosses that have specific mechanics will likely need re-balancing and fine-tuning over the course of years.
Feedback is also being directed to specific threads, and external discussion will be heavily moderated. "Off topic comments from those not testing will be removed, and repeat offenders will be removed from the forums entirely," warns the post.
Testing is now open for those who want to try out the new stat revamp and provide their thoughts. Instructions for testers can be read here, and details about the developers' intentions for the stat changes are detailed here.
Our Thoughts
It's been a long time coming, but we're nearing the point where these stat adjustments will hit the live game. We are very eager to know how players will react to these new stats and whether DC Universe Online will grow in the direction it hopes to.
Your Thoughts
What do you think about the proposed stat adjustments? Do you think there's holes in the developers' logic, or do you think this is something that needs to happen? Give us your input in the comments.
Source: official forums
Articles Related to DC Universe Online
Details of DC Universe Online Stats Revamp Shared
Jack Emmert Interview Discusses Plans for DC Universe Online
PAX East 2016: DC Universe Online Xbox Launch
Related:
DC Universe Online
,
DCUO
,
MMORPG
,
News
,
Public Test
,
Stats