Now that Warmind has been released, it would stand to reason that the Destiny 2 development roadmap is due for an update as well. And, sure enough, it has been, with word of new modes, a new seasonal event, and something called the Crucible Labs, which is a feature that got a few initial details.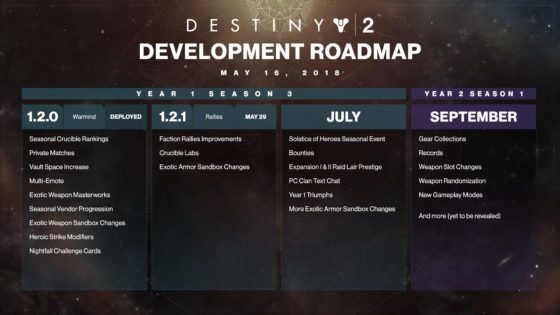 The Crucible Labs feature is one of the marquee features scheduled for update 1.2.1, which is currently on track for a release on Tuesday, May 29th. The Labs will be a place where "experimental PvP content" will be introduced to the game while letting the devs collect direct feedback.
In addition to this new feature, update 1.2.1 will also be changing Exotic armor for sandbox gameplay and making improvements to Faction Rallies. After that in July, players will see Prestige versions of the Raid Lairs added by Curse of Osiris and Warmind, along with additional Exotic armor sandbox changes and a new Solstice of Heroes event that will celebrate the accomplishments of the world's heroes.
From there, Year 2 will begin in September with promised new game modes, weapon slot changes and more goodies yet to be revealed – a possible allusion to the shooter's Fall expansion that will supposedly add "a whole new style of play for first-person shooter gaming" as promised by Activision COO Coddy Johnson during the company's Q1 earnings call.
As for the next update and the Crucible Labs feature, more information is due to come Soon™.
Our Thoughts
So it's basically a PvP PTR then. Considering how contentious and opinionated PvPers can often be, this will either be a great place for feedback and insight or a whirling maelstrom of text-based misery. Here's hoping more of the former.
Source: Bungie website
Articles Related to Destiny 2
Activision Blizzard's Record High in Q1 2018 Financials
Destiny 2 Game Page
Bungie is Open to Changing Destiny 2 Shaders
Related:
Destiny 2
,
FPS
,
Multiplayer
,
News
,
PvP
,
Roadmap