DCUO's lead systems designer Michael Mann has penned a lengthy post on the official site detailing a DC Universe Online stats revamp that is currently in the works, providing players a look at what to expect and the goals of the adjustments.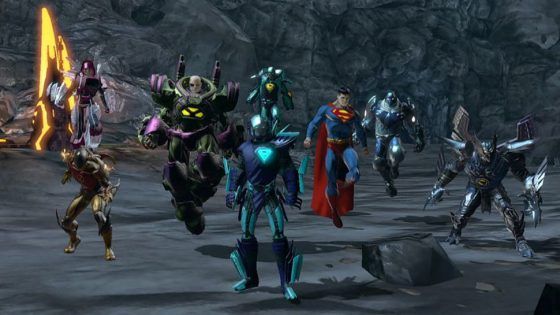 According to Mann, the overall goal of the stats revamp is to make combat rating less of a factor as well as make stats clearer for players. To that end, the team are going to be removing combat rating differentials, smoothing the curve of stat gains as characters level up, redistributing where stats come from and revamping stat-related skill points.
The team will also be completely removing advanced mechanics and Weapon Mastery bonuses due to the system causing "a range of problems to the current game". "We want you to have more meaningful choices, not less. We want you to be able to use any and all of the abilities in your powerset. We want there to be less confusion and less gap between those who are playing 'correctly' and those who are not," reads the post. Instead, Supercharges will fill in the strategic hole left behind with the removal of advanced mechanics.
Ultimately, the stats revamp is done with an eye towards the game's future according to Mann. "We want to open up possibilities and areas to grow the game," he writes. "We know that change can often be difficult. We know that it never comes fast enough, and then when it arrives is often too much too soon. However, we are confident that these changes will take us in the right direction."
A livestream Q&A session with Mann and community manager Ted Stone has been posted on the DCUO YouTube channel, which can be seen in its entirety below. You can also read the full post on the DCUO forums.
Our Thoughts
The changes incoming to DCUO are some of the most comprehensive the game has seen in its history, and we're very curious how they'll affect the game. The way stats play a part in character development can seem pretty esoteric to new arrivals, so we support any decisions that help to smooth the curve and offer more choice to players. Being a superhero is always more fun when you have options!
Your Thoughts
What do you think about the stats revamp coming to DC Universe Online? Are these changes something you'd want to check out as a lapsed player? Tell us what you think below.
Source: Official forums
Articles Related to DC Universe Online
Thoughts on DC Universe Online
Jack Emmert Interview Discusses Plans for DC Universe Online
PAX East 2016: DC Universe Online Xbox Launch
Related:
DC Universe Online
,
News
,
Stats
,
Update