Devilian fans, the time for the 4th Closed Beta is nigh! War for Nala, as the Closed Beta event is called, begins on Thursday, November 19 at 11:00 AM PST and concludes on Monday, November 23 at 10:00 AM PST, so it's a pretty long weekend. With this Closed Beta event come two of the most requested features yet; the Devilian War and Class PvP!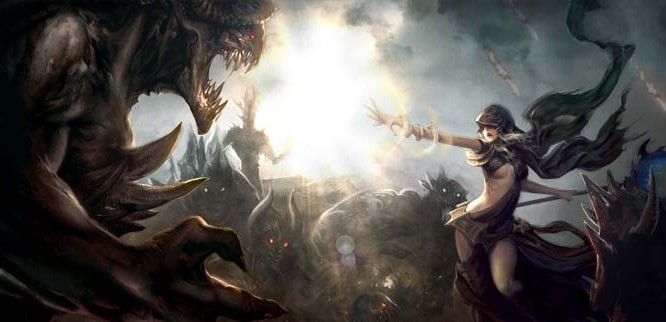 In the Devilian War, an all-new open world PvP based challenge, guilds will battle for control of the hunting grounds of Nala. In a PvP enabled channel, you'll fight for control of the entire region. You can earn points by killing enemies in the Endless Hunting grounds, with stronger enemies being worth more points. These points must be turned into a Capture Master near the entrance to the hunting ground. When you get killed by another player while already having control points of yourself, they gain your control points and can turn them in to increase their own guilds score. So kill and make sure you're not killed in the process! The victor unlocks rewards for the entire week and will see their guild name proudly displayed on the map for everyone to see.
Class PvP, on the other hand, allows players to engage in hectic combat in all of the battleground using their non-Devilian forms. You'll wield the skills and gear you've collected and take the fight to other Devilians in either 20 vs 20, 6 vs 6, or 3 vs 3 Battlegrounds. This is your chance to prove you are the strongest around!
If you want to partake in the 4th Closed Beta event, you are very much in luck as we're hosting a key giveaway! Head over to the giveaway section now and claim yours!
Our Thoughts
Devilian War sounds like a very interesting concept, and we're excited to see what unique rewards it offers to guilds who actually take control of a map. Also, fighting in non-Devilian form is a welcome change of pace, and will greatly switch up the PvP possibilities of the game. We'll definitely be checking it out this weekend!
Source: Devilian Official Website
Related:
Closed Beta
,
Devilian
,
Giveaway
,
MMORPG
,
News
,
Trion Worlds