Hearthstone lead designer Ben Brode has taken to the game's subreddit to talk about the current state of the Hearthstone ladder and outline discussions the devs are having to make it better.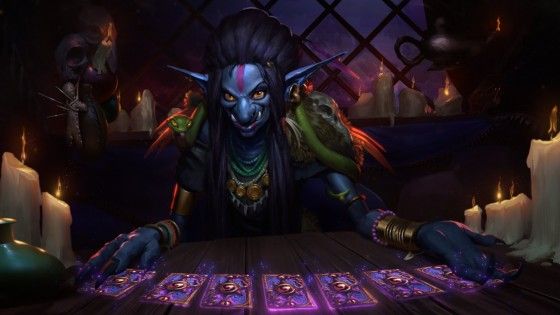 According to Brode, the team recognize that the achievement of climbing the ranked ladder isn't quite where they want it to be, but also recognize feedback from players that feel that climbing the ladder is a grind. Brode also acknowledged feedback from players that the last-minute shoving for high Legend ranks near a season's end "doesn't feel all that great".
In order to alleviate this, the team are looking at making adjustments to the number of ranks, the number of stars per rank and the number of bonus stars given out at the start of the season among other changes. While nothing specific was mentioned about what changes will be made, they are part of the conversation.
In addition, Brode shared that the team are working on a simulation tool that lets them test what ladder changes would do to the population curve. " If we inflate too many stars, the whole population ends up in the Legend bucket and while that might feel great for a single month, the entire system falls apart eventually," said Brode. "With better simulation tools, we are planning on trying a lot of crazy things. Iteration is important in design, and getting the tools to iterate quickly is very important."
Even though the devs are looking to shake the ladder up, Brode closed with a nod to the fact that fixing the mode is a tightrope walk between making the ladder feel rewarding while not losing sight of its purpose. "Part of what makes the ranked ladder compelling is that exists to rank players," he writes. "We need to be careful and make sure we end up with a system that makes people feel rewarded for increases in personal skill or for finding a new deck that breaks the meta."
Our Thoughts
While the posting from Brode doesn't really provide any real roadmap for how the ranked ladder will change, it at least lets the players know that the developers are working on making it better and are having the discussion. Acknowledging that a mode has an issue is a good first step.
Your Thoughts
What sort of changes would you propose to make Hearthstone's ranked ladder work better? Do you think the ladder is fine the way it is? Give us your input on this story in the comments below.
Source: Hearthstone subreddit
Articles Related to Hearthstone
RUMOR: Hearthstone on Nintendo Switch Suggested in Tweet
Hearthstone Invites You to Choose Your Champion
Hearthstone Introduces Heroic Tavern Brawl
Related:
CCG
,
Hearthstone
,
News
,
Ranked