It seems that Blizzard loves keeping their playerbase on their toes lately, and not just about Sombra! A piece of Diablo necromancer leaked art has been setting forums ablaze with speculation as to whether a Diablo 3 expansion might be announced soon at Blizzcon 2016… or if the image might simply be concept art to be used for something as mundane as merchandising.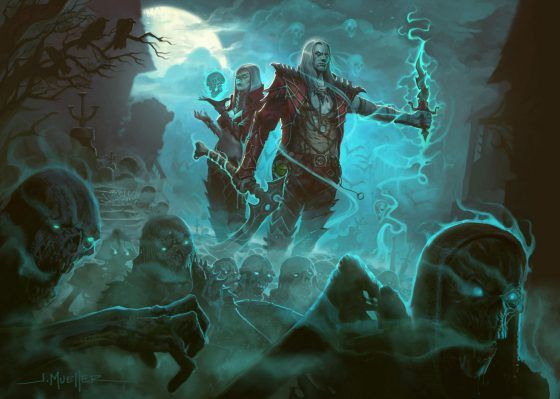 One of the most popular theories is that the Necromancers will be making a return in some form or another for the 20th anniversary of the Diablo franchise, although speculation also includes an expansion for Diablo 3 re-adding the Necromancer as a playable class, or a Diablo 4 announcement. Other theories point towards a remastered Diablo 2 HD, since Diablo 3 already has the very similar Witch Doctor class.
However, since the image was originally leaked from the Blizzard gear store, this could also simply be a new poster or t-shirt featuring a great piece of art depicting one of our favorite Diablo classes.
Our Thoughts:
Blizzcon 2016 and Diablo's 20th anniversary are just around the corner, luckily, so if there's any grand announcement to be made we will know very soon what is next for the franchise. We're not taking any bets on this one – it might simply be merchandise for the gear store, although that would be anticlimactic and disappointing for most Diablo fans.
Granted, one oddity about this image might be the presence of both genders since originally the Necromancer class was only available as male… but this doesn't necessarily have to mean anything either. Perhaps the artist simply wished to create a more diverse depiction of the Necromancer class and imagine how a female hero might have looked like.
Your Thoughts:
What do you think this leaked Diablo necromancer art will ultimately reveal itself to be? Let us know in the comments below!
Source: Reddit
Related:
ARPG
,
Blizzard Entertainment
,
BlizzCon 2016
,
Diablo 3
,
News