Once again, the voice of dissent has earned the ear, attention, and action of the devs for EA's Star Wars Battlefront 2. Specifically, a post from executive producer John Wasilczyk has outlined changes to Star Wars Battlefront 2 hero credit costs in direct response to yesterday's Reddit uproar.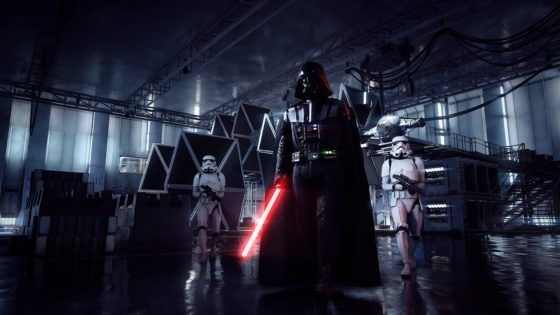 The post from Wasilczyk opened once more with a reminder that changes and adjustments will be a constant for the shooter, especially in response to player feedback. "Listening, and providing choices in how you play, will always be our principle with Star Wars Battlefront II," reads the post. "We want to ensure the game is balanced and fun both today and for years into the future."
As a result of yesterday's outcry, credit costs to unlock heroes is being slashed by 75%. Luke Skywalker and Darth Vader will now be available for 15,000 credits; Emperor Palpatine, Chewbacca, and Leia Organa now cost 10,000 credits; and Iden Verso will only cost 5,000 credits.
In addition, the devs plan to hold an AMA on the game's subreddit this coming Wednesday at a time to be determined later. Fans are directed to watch the shooter's Twitter to learn more about when that will open up.
With that said, it has also been revealed that the credits gained from completing Battlefront 2's single-player campaign has also seen a dramatic reduction from 20,000 credits to 5,000.
Our Thoughts
So one step forward one step back? While reducing the cost to get heroes is pretty great, the subsequent cut to the single-player campaign reward smacks of a lesson not fully learned. Still, we have to admit to being impressed by the company's willingness to digitally walk into the lion's den of the Star Wars Battlefront 2 subreddit. We'll, of course, be watching with great interest.
Sources: official site, VG247
Articles Related to Star Wars Battlefront 2
Players Continue to Question Star Wars Battlefront 2's Progression System
Crates and Progression Get Adjusted in Star Wars Battlefron 2
John Boyega Summarizes the Features of Star Wars Battlefront 2
Related:
Multiplayer
,
News
,
Online Shooter
,
Star Wars Battlefront 2
,
Update