SuperData Research have a new report out and it's got great news if you're in the business of games. Digital games sales are up 8% this year in the year on year figures.
Naturally it's not all across the board. While revenues are up in most segments, Social games and "Pay to Play" MMOs have not seen growth. Pay to play here defined as both subscription games and buy to play.
In fact the top grossing "Pay to play" MMO games category in the report shows Star Wars: The Old Republic sitting pretty at number 4 despite the subscription option being entirely optional in the Electronic Arts and BioWare game.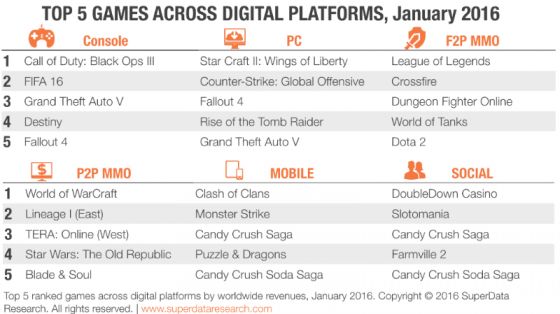 The number ones in both free to play and pay to play are not at all surprising. League of Legends and World of Warcraft continue to dominate their respective arenas in revenue as they do in many other factors.
Free to Play MMO also represents the last arena for Activision Blizzard since their takeover of King. Social Games, Console, Subscription MMO and DLC? All of these have Activision Blizzard in the top five if not outright leading the category. Time will tell what Overwatch might mean for that final territory.
Our Thoughts
It's great to see that the industry only continues to grow over time. Perhaps the biggest disappointment is that the F2P MMOs section is completely dominated by MOBAs. It would be great to see what that list looks like if you remove the MOBAs and shooters, leaving behind only the more narrow, traditional definition of MMOs.
Source: SuperData Research
Related:
Activision
,
Blizzard Entertainment
,
King
,
League of Legends
,
Market Research
,
Star Wars The Old Republic
,
World of Warcraft