Things continue to look good for the digital game market after seeing record sales this April. According to SuperData Research, sales have increased by 5% year over year.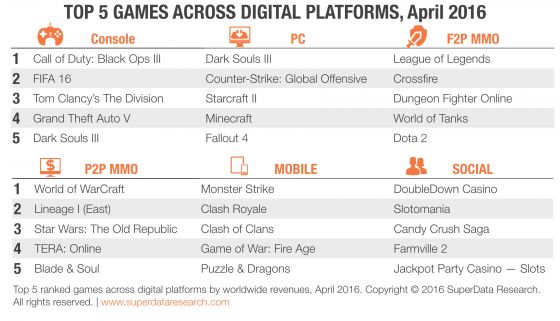 Surprisingly, consoles lead digital game sales with an increase in revenue of 23% since the same time last year. Furthermore, Mobile, MMO, and PC game sales have also increased, although not as much, while social game sales have declined on all devices.
As if it was any surprise, League of Legends continues to be the number one free-to-play PC game while World of Warcraft maintains its top place in the pay-to-play MMO category. Moreover, Call of Duty: Black Ops III holds the top console spot, which is to be expected.
One interesting twist, however, is that Monster Strike has overtaken both popular Supercell games in the mobile department. Still, Clash of Clans and Clash Royale earned slightly more than $100 million last month, even with a slight decline in the former's revenue. There are also reports that Tencent might be looking to acquire Supercell.
Our Thoughts:
It shouldn't be much of a surprise that digital game sales are on the rise as every platform attempts to distance itself from physical copies. Physical sales have been a minority for the PC for quite some time, especially with digital downloading services like Steam and Origin, and the latest generation of consoles have pushed digital sales harder than ever. This is great for publishers because there's a lower percentage of resales, but it also means less copies available for collectors.
Source: SuperData Research
Related items
Lead Designer of Social Systems Jeffrey Lin Leaving Riot Games
Riot Games Bans Team Impulse, Renegades, and TDK
Riot Games Discusses Residency Rules Changes
Related:
Clash of Clans
,
Industry
,
League of Legends
,
News
,
Supercell
,
World of Warcraft