It's easily one of the most anticipated updates for players of the online multiplayer shooter. It's The Division 1.8 update, otherwise known as "Resistance", and it has an official release date. And that date is tomorrow.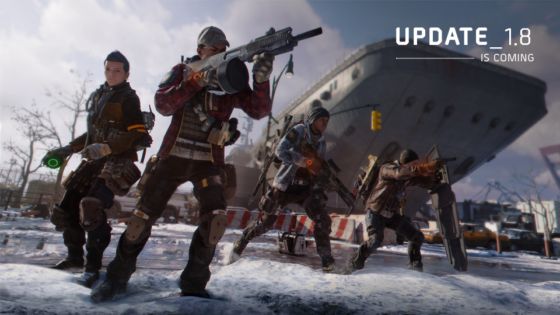 Update 1.8 for The Division is a hefty one, with improvements to the Underground DLC, changes to the way players go Rogue in the Dark Zone, and tweaks to the gear system that will let players improve the stats of their weapons.
It's not all just knob turning, however. Update 1.8 will also introduce a new West Side Pier area which will house new open world activities and two gameplay modes: a PvE mode called Resistance where a team of players must survive against waves of enemies, and a 4v4 PvP deathmatch mode called Skirmish.
In celebration of the new update, The Division will be hosting a special livestream where players can win unique items if they have their UPlay and Twitch accounts linked. Additionally, existing players can take advantage of free access to all of the game's Season Pass DLC from December 5th through the 10th, while free access to the full base game along with the DLC will be available to all from December 7th through the 10th.
Update 1.8 is a free release for all existing players going live this Tuesday, December 5th on all platforms. Patch notes can be found here.
Our Thoughts
Interesting, running this update parallel to the release of Destiny 2's Curse of Osiris… Regardless of whether this is intentional or not, we're definitely hoping that players of The Division will enjoy the new content update and interested in learning whether the free DLC and game offers will draw in new blood.
Sources: press release, official site 1, 2