X-Legend Entertainment, the development studio behind games such as Aura Kingdom and the recently launched Dragomon Hunter, have unveiled a new action MMORPG! Today, the Taiwanese developer revealed Laplace, the company's first PC MMORPG for 2016. Though it might not scream action MMORPG when looking at it initially, it's still an action game at its core.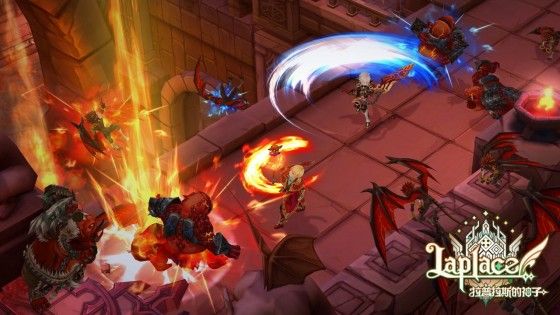 Laplace will start of with 4 playable classes (and a class advance tire) and 6 weapons. Each class has their own basic skills, but each weapon will also have its own active skills. This makes for an interesting feature with which players can go through over 5,000 potential combinations. Never a dull moment, as you can switch things up endlessly! X-Legend Entertainment isn't planning to stop there, however, as they already have plans for new classes and weapons for the game post-launch.
As most MMORPGs, Laplace will feature dungeons with their own respective boss monsters. Dungeons are laid out with traps, such as spikes, fire arrows and much more. The boss monsters are obviously a tough challenge as well, as they can torture you with special boss skills via the "Overkill system" that, for example, will throw you across the room. If that doesn't have an impact, we're not sure what will. Fighting them isn't without reward, however, as they will drop super-rare boss weapons, which give players access to special boss skills such as beast summoning.
With a story based on the seven sins and a camera angle similar to that of Diablo, Laplace is set to deliver a unique gameplay experience. Though there is currently no word on a release schedule, this is one game to keep your eye on for 2016. If you wish to get a better impression of what you're in for in Laplace, make sure you watch the video below.
Our Thoughts
Games like these, as they don't have the regular camera angle you're used to in MMORPG, usually have a very niche audience, but some manage to become extremely popular among players everywhere. We can't wait to find out if Laplace is one of those titles, but until more details have been revealed, we can't really judge on the matter.
Source: MMOCulture
Related:
Announcement
,
Laplace
,
MMORPG
,
News
,
Reveal
,
X-Legend Entertainment