Dragons in Tamriel are certainly nothing new, but undead ones are kind of a unique thing in the realm. That's just the kind of thing players of The Elder Scrolls Online are going to face when the Dragon Bones DLC arrives to the MMO, which was announced along with early details for Update 17.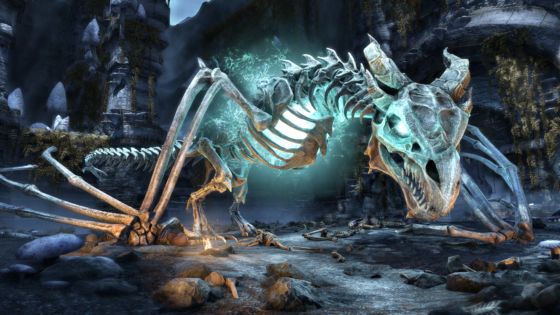 The Dragon Bones DLC will add two new dungeons to the game: Scalecaller Peak and Fang Lair. Both dungeons will arrive in Normal and Veteran difficulty along with a veteran Hard Mode for each boss. Players can expect to see such snuggly creatures as "plague-ridden ogres, powerful sorcerers and their undead creations, and even the reanimated bones of an ancient dragon" according to the press release.
Update 17, meanwhile, will bring its own treats for players including a new outfit system, two new PvP battlegrounds, a new storage system for players to store stuff in their Homesteads, and a number of quality-of-life features such as Skill Advisors to guide players who level up and improvements to combat.
Both Dragon Bones and Update 17 are due to release sometime in February. You can check out more details on The Elder Scrolls Online website.
Our Thoughts
Well, it's not Peryite or Akavir, but undead dragons are certainly a thing we can be intrigued by. The quality-of-life features arriving in Update 17 are sure to be of great interest to fans overall, while the new content coming with the DLC itself certainly looks like a lot of fun. We're ready to rattle some bones!
Source: press release
Article Related to The Elder Scrolls Online
The Elder Scrolls: Legends Return to Clockwork City Launches
Clockwork City Opens for The Elder Scrolls Online Console Players
The Elder Scrolls Online: Morrowind Review
Related:
DLC
,
MMORPG
,
News
,
The Elder Scrolls Online
,
Update