If you're going to be experiencing the internet spaceship arena of Dreadnought on PS4, then you're also going to be experiencing a unique mode. Havoc Mode brings Dreadnought co-op exclusively for players on the console as the game begins its closed beta.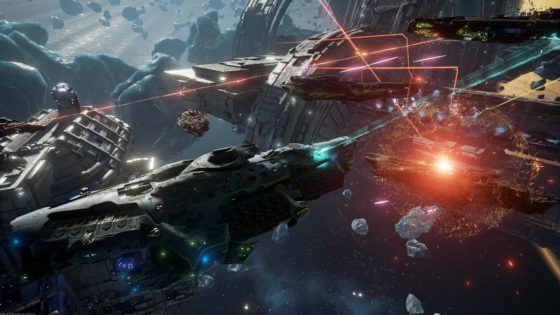 Havoc Mode pits three players against increasingly difficult waves of enemies in a fight for survival against the Scavs, a new faction with unique ships. Players won't be able to bring their own pre-made ships, but instead will have to pick from a selection of different craft and upgrade them as the match moves on.
Dreadnought is also offering up registration for the game's upcoming closed beta, and will also include guaranteed closed beta access for those that buy one of two different Founder's Packs. Purchase of these packs also includes Hero Ships, Grey Box Points to buy ship emblems and decals, Credits to buy new spaceships, and several days of Elite Status depending on which package a player buys.
More information about Havoc Mode can be found on the Dreadnought website.
Our Thoughts
A survival mode is pretty standard fare, but survival while piloting immense warships could be a lot of fun. The pre-made spacecraft is an interesting wrinkle and we're hoping that this Havoc Mode will make its way to other platforms as well.
Source: press release
Articles Related to Dreanought
Dreadnought Enters Open Beta on the PC
Dreadnought Q&A Videos Seek Player Questions
The MMO Alpha and Beta List: May 26, 2017
Related:
Dreadnought
,
MMO
,
News
,
Playstation 4