The in-development class-based spaceship arena shooter Dreadnought has officially kicked off its next stage of development today. Dreadnought open beta has now gone live for the PC in a new update that brings a couple of new features to the title.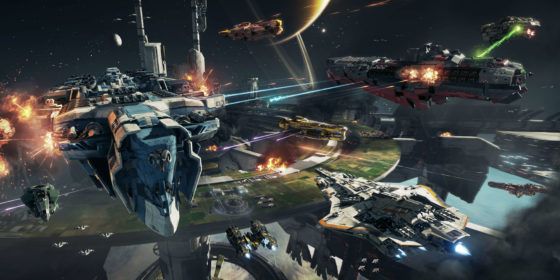 A brand new map arrives with the start of open beta; Ixion, which is described as the largest map in the game to date. Situated above Saturn's largest moon, Ixion will challenge players with terrain obstacles such as a massive orbiting ring and narrow corridors that could hold danger on the opposite side. The open beta update is also introducing night variations of the Rings of Saturn and Red Sands maps.
Open beta will not be the last of updates to Dreadnought, as continued content updates, adjustments, and balance passes based on community feedback are planned as beta presses on. Those who are interested in trying out Dreadnought can go to the official website, or you can take a look at the trailer below.
Our Thoughts
We're definitely due back for a visit to Dreadnought as our last look at the game had us more than a little worried about the direction the game is heading. For those who haven't tried the game out before today, we hope to see you in the skies! Just don't expect us to be very good at flying giant spaceships.
Source: press release
Articles Related to Dreadnought
Dreadnought PS4 Closed Beta Begins 2017
Dreadnought Q&A Videos Seek Player Questions
How Dreadnought Took a Wrong Turn with Update 1.3.1
Related:
Arena Shooter
,
Dreadnought
,
MMO
,
News
,
Open Beta
,
PC