If you like controlling a fireteam of robots in an explosive combination of MOBA and RTS, then you'll want to take a peek at Steam as Dropzone early access has arrived on the platform.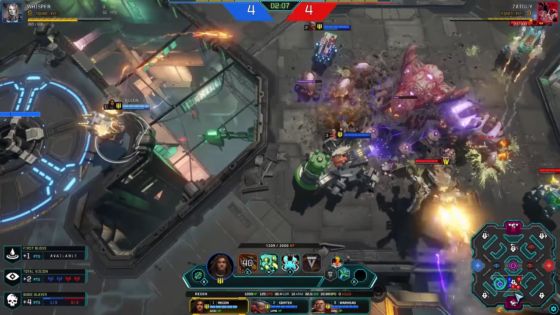 Dropzone is a 1v1 PvP title where players control three robots called Rigs in an RTS-like manner while managing experience and capturing Cores for points much like a MOBA. Matches last a fixed 15 minutes and the player with the highest score wins.
The launch of early access also introduces a variety of new updates to Dropzone, including a new co-op mode called Infestation, an update to the squad Builder tool, and a variety of smaller updates and bug fixes.
Developer Sparkypants Studios attributes the arrival of early access to the game's closed beta testers. "Over the past few months, we've been working alongside our Closed Beta testers to polish core gameplay, iterate on new features, and squash bugs," reads the announcement. "Today we're thrilled to involve more players in the development of Dropzone through Early Access."
Early access to Dropzone will set you back about $20. Patch notes can be found here, and a video for the game's Steam launch can be seen below.
Our Thoughts
When we last previewed Dropzone, we loved the combination of MOBA and RTS as well as saw the game's competitive potential. We're definitely excited to see Dropzone arrive to early access and hope that this explosive hybrid will earn a fanbase.
Your Thoughts
What do you think about Dropzone? Do you want to try the game out or will you be waiting on more features or a final release? Tell us in the comments section.
Source: Steam
Articles Related to Dropzone
Dropzone: First Impressions
Dropzone: A New Type of RTS
Turn-Based Strategy MMO Space Wars: Interstellar Empires Announced
Related:
Dropzone
,
MOBA
,
News
,
RTS
,
Steam Early Access