As of midnight Paris time on October 7th, the Dual Universe crowdfunding campaign is a success. Novaquark have raised the €500k needed to continue development. The team now looks to its stretch goal of Construct vs. Construct combat and has offered some details on how combat will look in the game to help reach the milestone.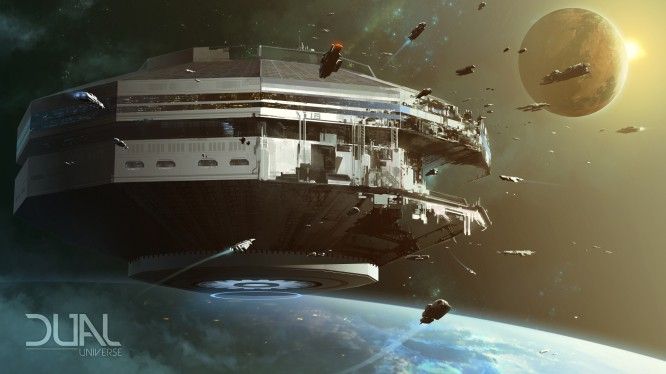 According to the most recent posting, combat will come in two forms: Player vs. Player and Construct vs. Construct, with "Construct" being a catch-all term for any vehicle or building that players create.
Since the game is primarily played in first-person view, aiming will be used in combat. However, there will be a "lock and fire" mechanic that will let players target a specific area on a player or a ship and apply damage. The developers hope that this will open up new strategies in fighting, such as being able to disable a ship without blowing it apart or breaching a large Construct's hull in order for a boarding party to attack.
If all of this open PvP sounds threatening, fear not, as the developers have stated that there will be safe zones around Arkships, and players can also build "protection bubbles" for themselves and their organizations.
As of this writing, Construct vs. Construct combat is a €600k goal. Dual Universe's campaign is at just over €525k with 51 hours left to go. You can read up about the team's combat system idea on the Kickstarter page. The update also showed off a video of two players building a landing platform on an asteroid surface, which you can watch below.
Our Thoughts
Congratulations to the Novaquark team for reaching their funding goal! We are intrigued by the combat model they propose, but would love to see it put in to action before we really get drawn in. Ideally, the campaign length will make Construct vs. Construct a reality, but we're inerested in what the devs plan on doing should they fall short of the stretch goal.
Your Thoughts
What do you think about the combat model being proposed? Do you like the idea, or would you rather have the game operate like a traditional FPS? Tell us what you think below in the comments.
Source: Kickstarter
Articles Related to Dual Universe
Dual Universe Dev Diary Outlines Charracter Customization and Progression
Dual Universe God Mode Video Shows Off Game Tech
Dual Universe Voxel Construction Showcased in Video
Related:
Combat
,
Crowdfunding
,
Dual Universe
,
Kickstarter
,
News