Have you ever wanted to be involved in discussing game development directly with the developers? Well now is your chance in Dungeons & Dragons Online with the Players Council.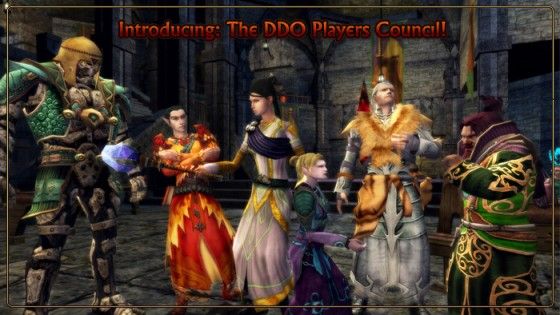 The Dungeons & Dragons Online team is now accepting Players Council applications through Tuesday, January 19. A handful of active players will be selected to participate in surveys, focused discussions, as well as highly structured and targeted developer chats. Those who aren't interested but know someone who would be great for the position can also recommend their friends.
Requirements to apply:
Maintain an active play style during the council's term of service. ("Active" to be determined by Turbine at its sole discretion.)
Be in generally good standing, with no significant violations of Turbine's Terms of Service, End User License Agreement or Community Guidelines. Having forum infractions does not mean you can't apply or serve, but is something we will consider on a case-by-case basis.
Council business will be conducted primarily in English. Therefore we request applicants have the ability to communicate with the team and each other via written and spoken English.
Be able to interact with other members of the Council and Turbine employees in a mature, constructive, and mutually respectful manner.
Once the council members are voted on they will be required to sign an NDA, and a list of all current council members will be posted on the official forums.
Duties once elected:
Serve for the calendar year in which they are elected.
Participate in private chats and other scheduled events with the DDO Team.
Provide feedback to the DDO Team as requested.
Comment, from time to time, on aspects or elements of upcoming changes before they have reached an Alpha state, and prior to their testing on the Lamannia preview server.
Assist the Community Team in identifying suggestions and recommendations from the community that match the goals set for the Council.
Make suggestions and recommendations in accordance with goals set for the council by the DDO Team.
Participate in and help design focused feedback surveys for the council and the general community.
From time to time, be asked to help draft a report on the council's activities for publication to the entire community.
Be guaranteed access to all Beta tests during their term.
Be provided a private discussion area for interacting with the DDO Team.
Receive courtesy invitations to player parties or other similar events that take place during their term. (Travel and other expenses associated with these events are the responsibility of the individual.)
Our Thoughts:
An official Players Council would be a great asset to any game, and having a direct influence on the early development of new content is something many players dream of.
Source: Turbine
Related:
DDO
,
Dungeons & Dragons Online
,
MMORPG
,
News
,
Player Council
,
Turbine