Cody Hargreaves and Daniel Owens landed in Los Angeles yesterday, ready to tackle E3 and provide coverage for MMOGames. With one of the biggest video game conventions underway, we rushed from the airport, ready to begin work and start covering the titles being showcased this year. With a few hitches along the way, we managed to find our hotel, retrieve our press badges and gain our bearings on what is where. Now that the first day is finished, we're ready to tell you what went down on our first day at E3.
After spending some time exploring the Los Angeles Convention Centre, we had our first meeting to attend to. FrogsterEU was kind enough to sit down with us and discuss more about new content for Runes of Magic. With Chapter 5: Fires of Shadowforge on the verge of release, we took some time to play around with the new content and discover exactly what's in store for Runes of Magic fans. Check out Runes of Magic Chapter 5: Fires of Shadowforge at E3 2012 to find out more about the latest content for this free to play fantasy MMORPG.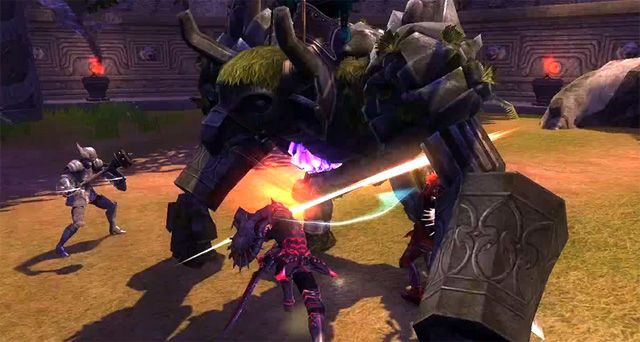 Runes of Magic wasn't the only title FrogsterEU was showcasing, free to play action MMORPG RaiderZ was also on the agenda. I had a quick look at this game earlier during the Alpha, but Cody and myself were very interested to see how far it has come since then. As an open-world action MMORPG with a focus on monster hunting, we were impressed by the tight controls and interesting visuals. Cody Hargreaves talks more about his hands-on time with RaiderZ in, Free to Play Action MMORPG RaiderZ at E3 2012, check it out to find out more.
While on the show floor, Perfect World was dazzling everyone with their booth babes and a giant skeletal dragon emerging from a wall beneath some massive TVs. It wasn't just the girls and dragons drawing everyone's attention however, it was the upcoming MMORPG Neverwinter. Cody Hargreaves set out to discover more about this D&D based title, read Free to Play MMORPG Dungeons and Dragons: Neverwinter at E3 2012 to find out more.
Exhausted, that's all I can say. After being awake for almost two days, a long flight from Europe and a crazy, yet eventful day, we can easily say that our first day is still nothing compared to what is in store for today. With meetings back-to-back and a huge list of games to to see, we're ready to tackle another epic day at E3 2012. Keep on reading below to check out some photos from Wednesday!
Photos (Wednesday, June 6th)