Though you don't usually think of MMOs when you think of Xbox it turned out that the Xbox E3 press conference was very much our thing. It started with The Division, moved on to Gigantic, Dean Hall of DayZ fame was there, but it was Minecraft on the HoloLens that stole the show.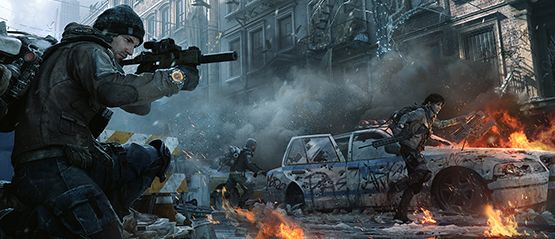 The Division
The Division will be having an Xbox Exclusive beta in December of 2015. You can sign up for the beta now on The Division's official site, or you can pre-order the game for $59.99. They also showed off an all new trailer which has us salivating.
Gigantic
Gigantic was revealed to be a Windows 10/Xbox One exclusive. Beta will begin in August 2015. And of course there was a new trailer to go with the reveal. Sign up for the beta now on the official site.
Xbox Game Preview
Xbox will be getting its own form of early access program called Xbox Game Preview. One of the first games in this program is Elite: Dangerous. DayZ will be coming at a later date.
Ion
One of the newest and most exciting reveals from the Xbox press conference was from Dean Hall, the creator of DayZ. You may recall he left DayZ to work on another project. Now that project has been revealed, Ion. Ion is a simulation MMO that follows humanity's expansion into space. This is a trailer you must see.
Sea of Thieves
Rare had two big announcements at the press conference, the first was the Rare Collection, 30 classic Rare games including Banjo Kazooie. The second was an all new shared world pirate game called Sea of Thieves. We aren't entirely sure yet if this is a title MMOGames should be interested in professionally, but we're certainly interested privately. It will be an Xbox One exclusive.
Fable Legends
Fable Legends is coming this holiday season to Xbox One and Windows 10. It will be free to play. But, the best part is that it won't matter if you play on Xbox or PC, you'll be able to transfer between them AND play with others who aren't on the same machine as you. During the press conference they showed off another beautiful trailer.
Minecraft HoloLens
While all of that may sound amazing, and it was, there was easily one runaway winner of that press conference. Minecraft on HoloLens. With a special camera set up so people could see what the HoloLens wearer sees they showed off how amazing Minecraft looks in 3D. You can look under, you can follow a player, and all of this is by voice command. If you watch nothing else from E3 this year you MUST watch this.
Oh and we've all been saying Mojang wrong this whole time. It's Moyang.
Before the Xbox press conference everyone was screaming that Bethesda had won E3. Now I wonder if those voices will be so loud. Microsoft and everyone at Xbox put on a fantastic show and it leaves us eager for more.
Related:
DayZ
,
Dean Hall
,
E3
,
E3 2015
,
Elite: Dangerous
,
Fable Legends
,
Gigantic
,
HoloLens
,
Ion
,
Minecraft
,
Sea of Thieves
,
The Division
,
Xbox One