While speaking at the annual Credit Suisse conference yesterday EA's Chief Financial Officer, Blake Jorgensen, made it very clear that they aren't giving up on microtransactions. This came the same day that it became clear that EA's stock has lost 3.1 billion dollars in value because of the Star Wars Battlefront II microtransaction fiasco.
Jorgensen went on to say that they didn't know when players should expect to start buying loot boxes, simply stating that they "haven't decided yet." Which suggests that it is still an option on the table despite all of the backlash that has taken place. Backlash that is still being felt, even through Black Friday. Analyst Drew Crum stated that sales of Star Wars Battlefront II on Black Friday were underwhelming. The game has also failed to reach the top 100 list of Amazon's best-selling video games this year. A list which includes Grand Theft Auto V which released in 2014.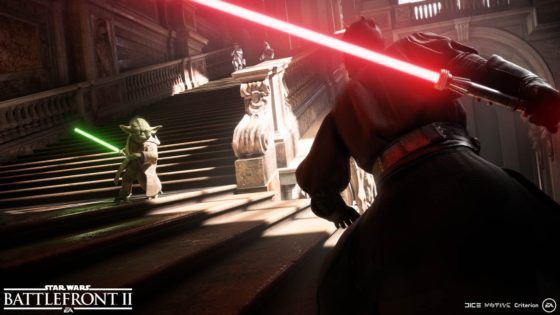 This of course also comes as government officials from several states and countries around the world are putting pressure on the gaming industry for what they say is promoting gambling to children and vowing to put an end to the predatory practice.
If a $3 billion dollar loss isn't enough to make EA reconsider their stance on microtransactions you have to wonder exactly how much money microtransactions are making for game companies that are using them. Will EA continue to put microtransactions in their games going forward or will the continued backlash make a difference? And what, if anything, is the industry learning from this fiasco? Only time can give us the answers to these questions.
Jorgensen also said during the conference that cosmetic microtransactions weren't possible because they would break canon. "If you did a bunch of cosmetic things, you might start to violate the canon. Darth Vader in white probably doesn't make sense, versus in black. Not to mention you probably don't want Darth Vader in pink. No offense to pink, but I don't think that's right in the canon."
And finally, he also said that Star Wars Battlefront II is one of the best games EA has ever built. With retention higher than almost any other game they've made. So it would appear that not everyone is taking issue with the game.
Update December 1st: Shortly after Blake Jorgensen came out and said that cosmetic microtransactions weren't possible players found a hidden customization menu in the game. So it would appear that customization was intended to be in the game at least at some point. And it easily could have been done in a way that doesn't hurt canon. Of course, the argument is a little bit weak, to begin with since the very concept of the game has several different generations of characters fighting each other in their primes when in reality those characters have never met. If you'd like to see what the menu looks like I recommend checking out the video below.