Today, Bethesda released an epic new trailer for the upcoming DLC game pack for the Elder Scrolls Online: Orsinium. The trailer isn't the only thing that they announced though. The first details for the DLC were revealed as well!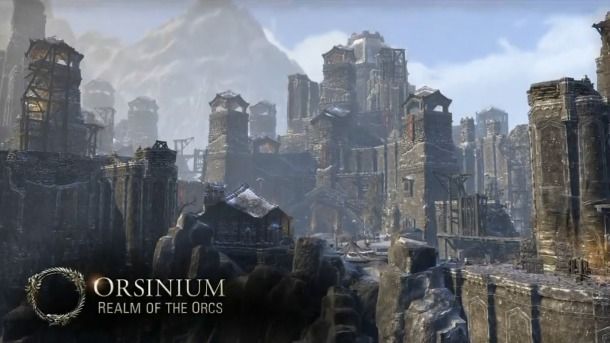 Orsinium is the ancestral home of the Orcs, and is being rebuilt deep in the Wrothgar Mountains. King Kurog has send out a call all across Tamriel to assist in the city's rebirth in any way possible. This DLC pack takes players to the mountains of Wrothgar and to the Orc capital itself. Here you will unravel plots and counter-plots, and encounter all-new enemies and allies. Orsinium will be the Elder Scrolls Online's largest game pack to date, as it features a massive new zone for players to explore, new quests and mysteries to complete, a new single-player arena (called The Maelstorm Arena), new public dungeons (Old Orsinium and Rkindaleft), and much more!
Orsinium will contain over 20 hours of content in total and will launch on PC and Mac on November 2nd. Console users will need to wait a little bit longer, with the DLC being released on Xbox One on November 17th, and on PlayStation 4 the day after. ESO Plus players will automatically get Orsinium, and players who want to buy it separately can do so for 3,000 crows via the ESOTU Crown store.
But enough talk; it's time for you to watch that epic announcement trailer we mentioned earlier!
Source: Press Release
Related:
Announcement
,
Bethesda
,
DLC
,
MMORPG
,
News
,
The Elder Scrolls Online
,
Zenimax