Zenimax has released details surrounding the upcoming Elder Scrolls Online Dark Brotherhood DLC game pack and the accompanying base game patch. The expansion adds the Dark Brotherhood to Elder Scrolls Online, and allows players to enlist in this master cadre of assassins and complete quests and missions for them. Importantly, the base game patch that accompanies the Dark Brotherhood, which is free to everyone whether or not they purchase the DLC, brings with it some major game changes.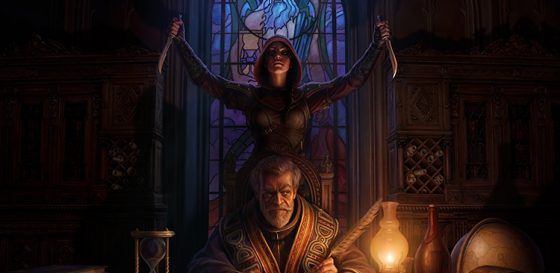 The Dark Brotherhood DLC pack will launch for PC/Mac on May 31, 2016, and for the Xbox One and PlayStation 4 on June 14, and it lets players take on the role of a master assassin for hire. The DLC pack introduces a new passive Dark Brotherhood skill line, lots of new storyline and quests, including repeatable assassination themed quests, new gear, and a new PVE area in Cyrodiil named the Gold Coast, along with numerous other changes and additions. The DLC pack will cost 2,000 crowns in the Crown store; players with an active ESO Plus membership can play the new content for free.
The patch that accompanies the Dark Brotherhood DLC, however, brings with it some immense changes, the largest of which is the removal of Veteran Ranks from the game. In a post on The Elder Scrolls Online official forums, ZOS_RichLambert explains how the attribute and skill points that players formerly would earn by advancing through the Veteran Ranks will now be added to the normal 1-50 advancement reward schedule, with a character now earning the extra 16 points for both skills and attributes as they advance their character normally. The patch also introduces the ability to create poisons to treat weapons with, item locking to prevent accidentally deleting or deconstructing one of your prize items, and many social, balance, and performance improvements.
Players who are interested in learning more about the Elder Scrolls Online Dark Brotherhood DLC pack or the base patch should read the official announcement post.
Our Thoughts:
The Veteran Rank system has been one of the most unpopular parts of the game since it was implemented, requiring no small amount of grinding and time to advance through; squeee! The Dark Brotherhood DLC looks like it will be every bit as much fun as the Thieves Guild patch has been; everything about both the patch and the DLC looks great!
Source: The official Elder Scrolls Online website
Related:
Bethesda
,
DLC
,
ESO
,
News
,
The Elder Scrolls Online
,
Zenimax