As of today, new arrivals to the MMO version of Tamriel can pick up The Elder Scrolls Online Gold Edition and get the complete game in one bundle.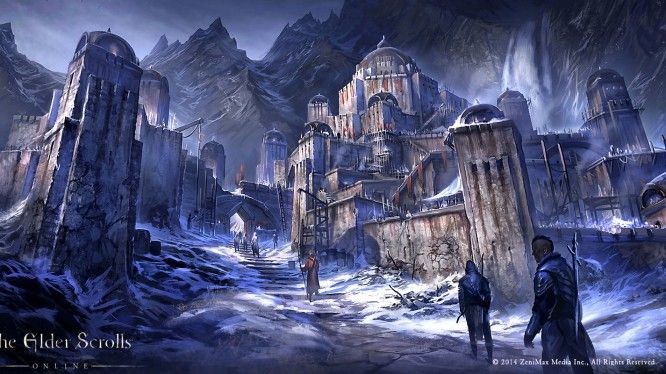 The Gold Edition includes every major DLC pack released for the game so far including the Thieves Guild and Dark Brotherhood packs, and will also provide a Palomino horse mount and 500 Crowns for use in the in-game store. The Gold Edition is designed with new players in mind, according to the announcement. "From Skyrim to Daggerfall, this will be the easiest way for new players to explore all of Tamriel and take part in amazing adventures online with friends," reads the release.
In addition to the Gold Edition release, Bethesda will also be releasing a Guilds and Glory pack for existing players who are yet to buy any DLC. The Guilds and Glory pack includes the same four DLC packs in the Gold Edition bundled together for 5,000 Crowns.
The Gold Edition is on sale now for PS4, Xbox One and PC for $59.99, and the Guilds and Glory pack is available now in the Crown Store in-game. The Shadows of the Hist DLC is still a separate purchase in either case.
Our Thoughts
Enticing new players with bundled DLC at a discount should bring lots of new arrivals to The Elder Scrolls Online. Combined with the One Tamriel update, it looks like Bethesda are working to inject new blood in to TESO. We hope that current players will welcome the new arrivals and the MMO continues to thrive.
Your Thoughts
Do any of the bundled DLC packs for sale entice you to try the game out or restart a lapsed account? Are you waiting on One Tamriel? Are you playing a different MMO entirely? Give us your thoughts in the comments.
Source: Press release
Articles Related to The Elder Scrolls Online
TESO Talks Your First Day in One Tamriel at PAX West
The Elder Scrolls Online Tavern at Gamescom Talks One Tamriel, Lockboxes
Shadows of the Hist Brings New Dungeons to The Elder Scrolls Online
Related:
News
,
Release
,
The Elder Scrolls Online