ZeniMax Online Studios has just announced that the latest Elder Scrolls Online DLC will include the Imperial City, the capital of Tamriel, which is located in the heart of Cyrodiil.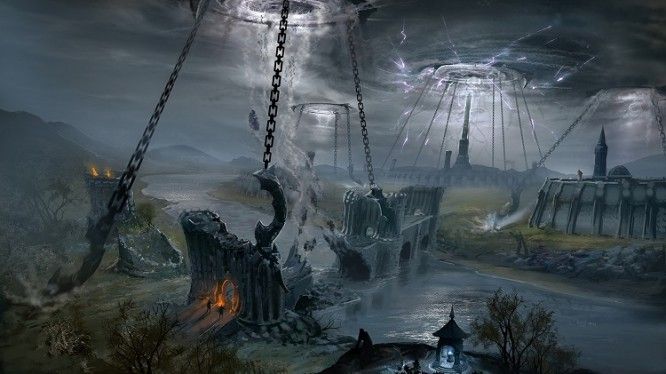 The development team promises to deliver a sense of nostalgia to the dedicated players of the franchise. Since The Elder Scrolls Online: Tamriel Unlimited takes place before the events of Oblivion things will look a little different. Having been attacked by the Worm Cult, the Imperial City is now under siege and many structures have been destroyed. Monsters wander the streets, many Imperials have been enslaved, and there's a very dark tone overall.
"Since the city and its districts existed prior to their inclusion in ESOTU, it was easy for us to recreate the basic layout of the Imperial City based on the general design found in Oblivion. We did take some liberties, such as expanding the size of the Imperial Sewers to allow for more room in your alliance's home base. Above ground, we needed to emphasize that this is a completely different time with very real threats that have quickly shaped the region."
This new zone isn't for the faint of heart, however, and features difficult monsters meant for parties of two or more, but a highly-skilled player might be able to complete the content solo. ZeniMax stressed that they wanted to build an unforgiven zone that rewards those players who step up to the challenge. Furthermore, many parts of the Imperial City will be a PvP warzone and player can earn Tel Var Stones, which can be redeemed for Veteran armor sets, by slaying opponents.
The Imperial City DLC is already available on the public test server and will be available on PC/Mac on August 31, Xbox One on September 15, and PlayStation 4 on September 16.
Related:
DLC
,
MMORPG
,
News
,
PC
,
The Elder Scrolls Online