Yesterday Amazon leaked information about the Imperial Edition of The Elder Scrolls Online. This physical collector's edition includes:
Collector's Edition Box & Steelbook Packaging
Molag Bal Statue – A collectible 12″ statue featuring Molag Bal, Daedric Prince of domination and enslavement
Map of Tamriel – A printed map detailing alliance-controlled zones and the ultimate conquest: Cyrodiil
Emperor's Guide to Tamriel – A 224-page illustrated guide annotated by the Imperial scholar, Flaccus Terentius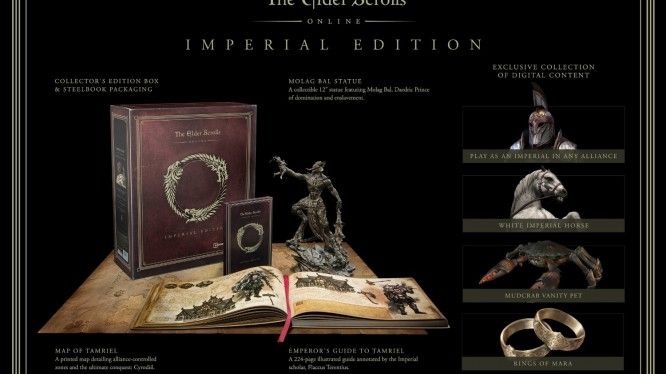 As well as several digital items:
Play as an Imperial in any Alliance
White Imperial Horse
Mudcrab Vanity Pet
Rings of Mara
The image above of the Imperial Edition was put on the Dishonored Game of the Year Edition by mistake. It has since been taken off of the Amazon website but it was already caught by eager fans.
The leak has brought mixed feelings from the fanbase who are upset to find out that a race is part of this pack while many others argue that it isn't enough and the asking price will likely be high due to the presence of a statue. While one website claims to be selling the pack for €77.99 which is approximately $100USD.
There has been no official word from Zenimax or Bethesda on the leak at this time but we will update this post as soon as there is more information.