A broom and bucket. Not exactly things one associates with the art of war. However, The Elder Scrolls Online has weaponized these common cleaning tools, offering the two items in the Crown Store as a Broom Weapon and a Bucket Helmet. And yes, we checked; they're legit.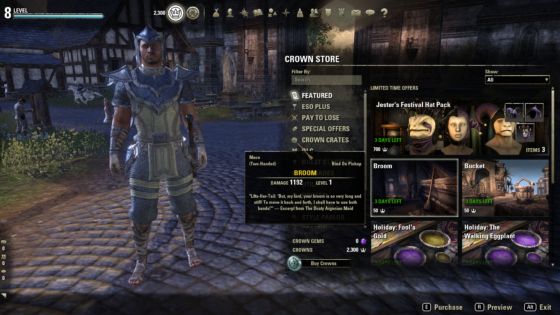 The broom is a two-handed Mace weapon, while the Bucket Helmet is a…well…a helmet. Both are available on the game's Crown Store for 50 Crowns each for a limited time, available during the Jester's Festival from March 31st to April 3rd on all platforms.
You can check out the items and their "colorful" flavor text on the game's official forums.
Our Thoughts
Of course I bought those two items for my character, and after having some brief time with them I've got to admit that the Broom weapon is too hilarious, even if it's not the world's greatest item. It's unclear how long this weapon will last over the course of regular gameplay, but being granted the opportunity to attack enemies with a cleaning utensil is too much fun to ignore.
Source: official forums
Articles Related to The Elder Scrolls Online
Celebrate Silliness in The Elder Scrolls Online Jester's Festival
The Elder Scrolls Online: Morrowind Preview
The Elder Scrolls Online: Morrowind Developer Interview
Related:
April Fools Day
,
Cash Shop
,
MMORPG
,
News
,
The Elder Scrolls Online