At long last, The Elder Scrolls Online previews the Thieves Guild!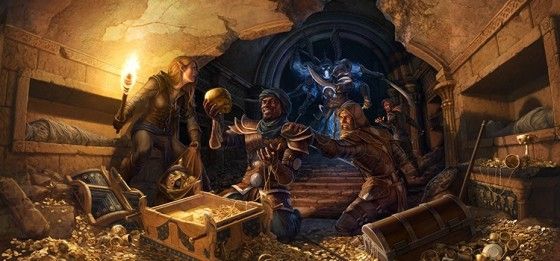 The game's first DLC for 2016, players have been waiting for the Thieves Guild for a long time now. Hailing from Abah's Landing of the newest zone, Hew's Bane, the guild is an organization of thieves of every caliber, from pickpockets to burglars and robbers. But they're being hunted by a mercenary guard force called the Iron Wheel who are determined to bring the guild to justice for a heist gone wrong. Your job as the Thieves Guild's newest recruit is to "sneak along rooftops, steal from the shadows, and recover lost treasures to help to restore the guild's reputation." Steal your way through Tamriel and take on a challenging new 12-player trial – the Maw of Lorkhaj, and unlock an all-new passive skill line exclusive to Thieves Guild members.
This DLC will come in 2 parts just like the previous updates. These being the DLC game pack that introduces the new content to subscribers and buyers, and the base game patch which will be available for everybody and sees improvements such as scrolling combat text and a 64-bit PC and Mac client.
There will be more information coming very soon, but in the meantime you can read the full list of upcoming content on the official first look post, and watch the latest video attached below.
Our Thoughts
Ooh this is exciting! We've been looking forward to the Thieves Guild for a long time now. Justice came to Tamriel already but now we can be extra roguish in our thieving.
Source: The Elder Scrolls Online
Related:
DLC
,
MMORPG
,
News
,
The Elder Scrolls Online
,
Zenimax