"Shhh! We're giving you a sneak peek at the next killer DLC game pack for The Elder Scrolls Online, and you won't want to miss it." Begins the blog piece on The Elder Scrolls Online's Dark Brotherhood DLC today, and they aren't wrong. With a chilling 'First Look' trailer, and ominous hints dotted throughout Tamriel for the past few months, the Dark Brotherhood DLC already has our attention.
Tamriel's next DLC pack sends players to the Gold Coast, the westernmost region of the old Empire where you will be able to join the Dark Brotherhood and become an assassin for hire. As with previous DLCs, Dark Brotherhood will be available for all levels and will launch in two parts with the DLC pack itself, and the base game patch that will be available to all, whether you own the mini-expansion or not.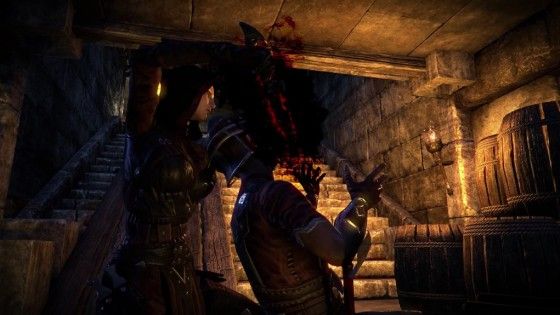 The Gold Coast will take players to Anvil and Kvatch for the first time since Oblivion and brings with it plenty of news story content and quests, new repeatable quest content that introduces contracts and the Black Sacrament, challenging new group bosses and delves for PvE players to enjoy, another new passive skill line for members of the Dark Brotherhood, and of course, new costumes, motifs, hats, and item sets with a Dark Brotherhood theme.
The base game patch is the one that will remove Veteran Ranks from The Elder Scrolls Online, as well as introducing toggle-able nameplates, Poison-Making, Item locking, Craft Bags for ESO Plus members, ongoing Cyrodiil performance improvements, as well as character name display for console players and further improvements for the Grouping Tool that includes a ready check, vote-to-kick system, and an updated queue timer. We'll also see a new District capture system for Imperial City and rebalances to the dungeons in the area.
What's more, Zenimax will be at PAX East this weekend with some new, exclusive video clips, developer panels and activities and more in the Cyrodiil Room.
Our Thoughts
The Elder Scrolls Online players have been waiting for the Dark Brotherhood DLC pack for a long while now and it looks to add all sorts of exciting new content for players! We can't wait to sneak around in the dark of night. And of course, the base game patch brings a lot of awesome stuff, too. The Crafting Bag for ESO Plus members will be a huge help for inventory space issues and the removal of Veteran Ranks.. well, we shall wait and see what currently Ranked players will be granted instead, for for newer players, this is amazing news. Hurray!
PS. Hats.
Source: The Elder Scrolls Online blog
Related:
DLC
,
MMORPG
,
News
,
The Elder Scrolls Online
,
Update
,
Zenimax