A Redditor took footage and notes during The Elder Scrolls Online Tavern event at Gamescom 2016, walking away with some new information about what's heading to the MMO.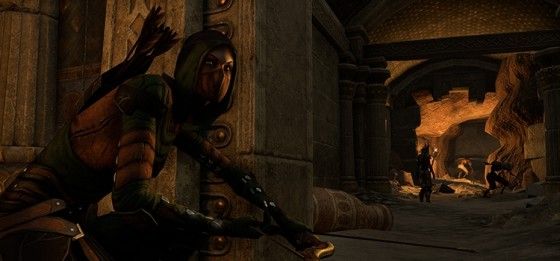 The footage is all cell phone video with incredibly shaky camera work, however several new tidbits of what's coming to The Elders Scrolls Online were revealed, with some highlights noted by Reddit user Tony1697.
The notes state that the One Tamriel update will be a completely free release added to the base game, including an overhaul of all dungeons that don't yet have a vet mode and the datamined 17 new monster sets.
The Gold Edition of the game will be available for $59.99 and include 500 Crowns to spend in the in-game Crown Store for new game accounts, and will include all of the DLC packs except for Shadows of the Hist as well as a Palomino horse mount. The Crown Store will also feature lockboxes containing "purely cosmetic" items, with the devs outright stating that "there will never be pay-to-win items in the Crown Store".
The original Reddit post along with links to the uploaded videos can be found here.
Our Thoughts
Lockboxes arriving to the Crown Store seem to be something of an inevitable thing, though the boxes containing cosmetics should hopefully lessen the blow. Otherwise, the One Tamriel launch and the other additions coming to The Elder Scrolls Online all sound like pretty positive ones. We're eager to hear more about release dates!
Your Thoughts
What do you think about the arrival of lockboxes to the Crown Store? Are you excited for the One Tamriel update? What are you looking forward to in TESO? Tell us what you think in the comments.
Source: Reddit
Articles Related to The Elder Scrolls Online
Shadows of the Hist Brings New Dungeons to Elder Scrolls Online
The Elder Scrolls online Gold Edition Arriving This Fall
The Elder Scrolls Online Housing Feature Arriving Soon
Related:
Event (Real Life)
,
Gamescom 2016
,
News
,
The Elder Scrolls Online