Zenimax has unveiled an overview of the new content which will be available to players in the upcoming Elder Scrolls Online Thieves Guild DLC Game Pack in a news post on the official Elder Scrolls Online site. The post explains the new skills and quests which come with the Thieves Guild DLC.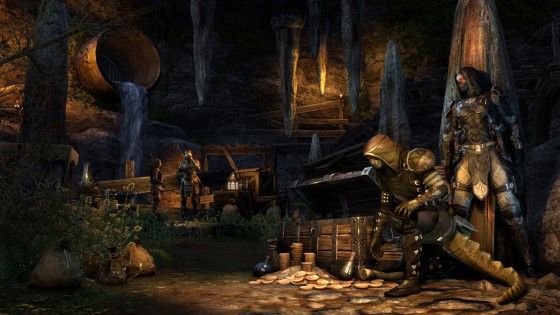 Players will gain access to a new passive skill line when they join the Thieves Guild, much as they already obtain for joining the Fighters and Mages guilds, after completing the first part of the Thieves Guild quest line, "Partners in Crime" and arriving in Abah's Landing, the new area that is added to the game with the DLC. All of the new skills are passives, and they range from "Finders Keepers", a skill which lets the player detect new types of hidden treasures, to "Swiftly Forgotten", a new passive which reduces a character's heat and bounty after a period of time.
New types of activities are also included; Thieves Guild characters can access news types of quests, from Tip Board quests which involve things like pickpocketing random NPCs or opening a safebox somewhere in the world, to Heist Board quests, which are instanced areas designed to test the lockpicking, trapfinding, sneaking, skulking skills of the thief attempting them.
Many new items will be available through these quests, such as fake bounty notices which reduce a character's bounty and heat. Characters can also now indulge in several new types of crime, such as vandalism, arson, and trespassing.
According to the Elder Scrolls Online Thieves Guild DLC Pack page, the Thieves Guild pack will be available for PC and Mac versions of the game on March 7, 2016, for Xbox One on March 22, and for the Playstation 4 on March 23. Players who are interested in reading about the new quests, skills, and other changes in more detail should read the official news post.
Our Thoughts:
Squee! Come on; the ability to engage in wanton criminal activity as a professional thief is one of the best parts of the Elder Scrolls series. The fact there are so many new quests, items, and so on, all of which are repeatable? Squee!
Source: Elder Scrolls Online Official News Post
Related:
Bethesda
,
News
,
The Elder Scrolls Online
,
Update