Frontier Developments has announced that Elite Dangerous: Horizons is coming to Xbox One during Q2 2016. Elite Dangerous: Horizons brings a host of new features to Elite Dangerous, with the most profound change being the introduction of planetary landings as playable content.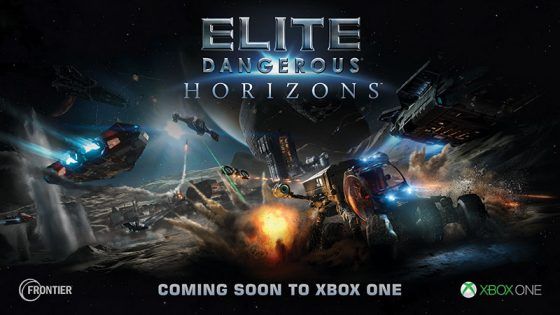 The Horizons update has been in the works for some time, and was designed to push Xbox One hardware in "unique ways". The Planetary Landings simulate real, planet sized environments via the galaxy simulation technology which powers many of the other environments in the game. Michael Gapper, PR and Communications Manager for Frontier Developments, said of the update "Horizons's simulated worlds are unlike anything you've seen in a game before, and are as real as we could make them, just like the rest of the Milky Way Galaxy." Players can journey from space to any location on a planet's surface they choose, and they may then explore in their all terrain vehicles.
In addition, Horizons also includes a smaller update named The Engineers, which brings a range of customization and crafting options into Elite Dangerous that will "… make every ship in the Elite Dangerous galaxy unique."
For more information about Horizons and other expansions and updates for Elite Dangerous, players should visit the Elite Dangerous Seasons page.
Our Thoughts:
Any sort of open world content in a game is always great, and seeing developers implement new types of open world content is really a delight. The fact a number of console games have began to focus on the delivery of such content could indicate something of a change in the winds in game development; time will tell.
Source: Press Release
Related:
Elite Dangerous: Horizons
,
Elite: Dangerous
,
Frontier Developments
,
News
,
Xbox One