One of the most anticipated updates in Elite Dangerous history is now available. The Commanders update has officially been brought online, offering up Holo-Me character customization, Multi-Crew functionality, and a host of other adjustments.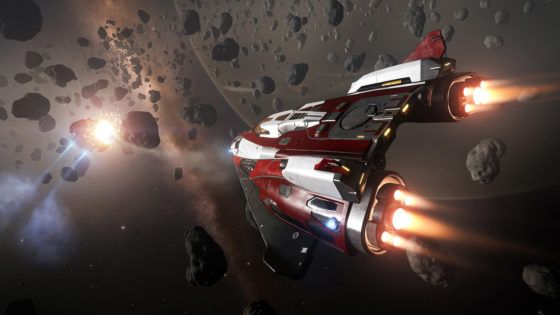 Holo-Me features allow players to create avatars that can be seen when players chat back and forth at each other as well as projected when aboard other player vessels. In addition to the expected amount of facial presets and adjustments, there are also shoulder patches that display a Commander's current rank and affiliation with either a faction or pirate group.
Multi-Crew adds the Helm, Fighter and Gunner roles, and has added Matchmaking options for several different session types including Bounty Hunting, Mining, Exploration, and Mentoring. Ships that support the new feature including the Asp, Type 9, Federal Dropship and others.
For those who are not Horizons owners, the update still offers several other features. Commanders can now name their craft and add ID plates, a suite of camera tools have been implemented that allow players to take dynamic screenshots from inside and outside their craft, and a laundry list of bug fixes and other tweaks have been made. The full changelog can be read here, and a trailer for the update can be seen below.
Our Thoughts
We're most excited by the multiplayer aspects of this update, naturally; Multi-Crew means that players will be able to come together easily in order to traverse the vastness of Elite space together in the hopes of maybe being the next Elite Dangerous Star Trek or Firefly crew. Wait, perhaps that's just our hope…
Source: official forums
Articles Related to Elite Dangerous
PAX East 2017: Elite Dangerous 2.3 and Beyond
Players Make First Contact in Elite Dangerous
PS4 Elite Dangerous Arriving in 2017
Related:
Elite: Dangerous
,
News
,
Sandbox MMO
,
Update