We've all been patiently waiting, and now we finally have a date. The Elite Dangerous PS4 launch has finally been revealed, offering information on the different editions available for the system as well as the launch of the physical product on both PS4 and Xbox One.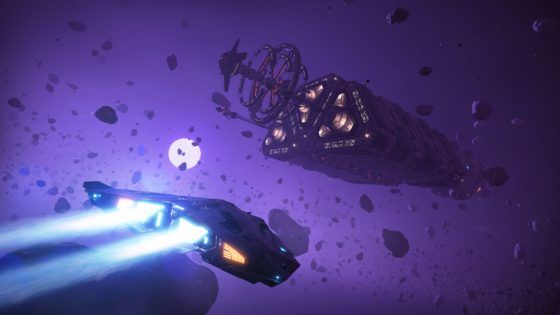 The PlayStation edition of Elite Dangerous will launch on Tuesday, June 27th. Naturally, the game will be available digitally through the PlayStation Store either as a stand-alone title and a separate Horizons season pass upgrade, or in a collection of both in the Commander Deluxe edition which will also grant a pack of paint jobs for your ships. Those who pre-order on the PlayStation Store will also receive an exclusive gold Sidewinder paint job.
If you prefer to have the hard copy of the game for the system, it will also launch at retail on the same date in the form of the Legendary Edition on both PS4 and Xbox One systems. As mentioned previously, the physical copy of the game will include Elite Dangerous, the Horizons season pass, and 1,000 Frontier Points for in-game store purchases.
Digital pre-orders for Elite Dangerous on PS4 are available now in Europe and will be available for the US on Tuesday, May 30th. A trailer for the PS4 edition of the sandbox can be seen below.
Our Thoughts
Finally! A lot of players have been looking forward to this one for a long while and now the wait is very nearly at its end. With so many intriguing things happening in the Elite Dangerous universe recently, this is certainly becoming one of the best moments to hop in the Commander's chair.
Source: press release
Articles Related to Elite Dangerous
Latest Chapter in the Elite Dangerous Formadine Rift Story was Written by Pirates
Elite Dangerous Commanders Update Arrives
Frontier Announces Partner for Physical Elite Dangerous Console Release
Related:
Console
,
Elite: Dangerous
,
Launch Date
,
News
,
Playstation 4
,
Sandbox MMO