ELOA: Elite Lord of Alliance officially goes live today! To celebrate the launch of the triple-action hack 'n slash MMORPG by WEBZEN, a special in-game event has been created in which players get a chance to acquire a unique pet.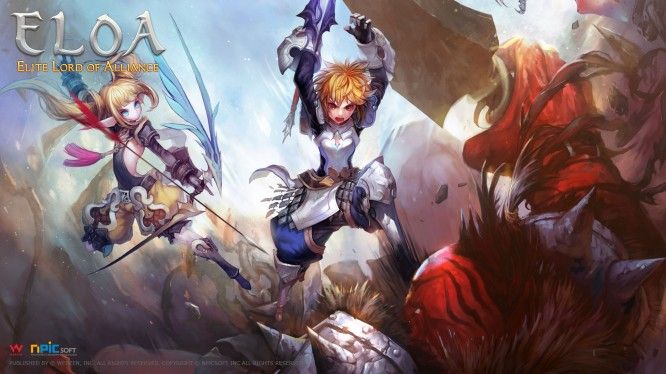 ELOA features classic action RPG elements and a unique, dynamic 3-combat-stance gameplay. The level cap is currently set at 30, and players can choose between one of 5 playable classes among 4 races. After doing so, you'll fight in PvP battlefields, venture into dungeons and traverse the beautiful open-world that ELOA has to offer.
With the game's launch, an in-game shop is being introduced. In this shop, a variety of items are available for purchase, including appearance-changing character costumes, HP/MP potions, wings and much more! There's also an in-game event to celebrate the release. During this event, players will fill up a "Monster Journal" by defeating different types of monsters. If you completely fill up the journal between November 24th and December 8th, you'll receive Claire's Chika Box, which might just get you a unique pet.
But that's not all! In addition to the in-game event,there'll be an official launch gift key giveaway event from today through December 8th. All you have to do is visit any of WEBZEN's media partners to obtain a special gift key. Keys are limited to only per WEBZEN account, and each key will grant a free gift pack, which includes 5 Server Chats and 1 Eva's Survival Pack.
There are already plans for the upcoming patches in December, with new areas to explore and more quests to complete in conjunction with an increased level cap and an entirely new raid dungeon! Much to look forward to, and there's already plenty to enjoy with today's launch!
Our Thoughts
A smooth transition from open beta into launch is the best way to go, and ELOA definitely achieved just that. With a bunch of new content already in the works, we're sure this title will stick around for a long time!
Source: Press Release
Related:
ELOA
,
Event (In Game)
,
F2P
,
Launch
,
MMORPG
,
News
,
WEBZEN