KOG Games, today announces the launch of the shadowy new Job path for Elesis called the Dark Knight. Elsword players can Unlock Dark Knight at level 35. The character is a DPS type that will rely on her own health to do additional damage. To celebrate the new release, KOG Games is holding a level up event. For more information on the new job path or events, please visit the official website.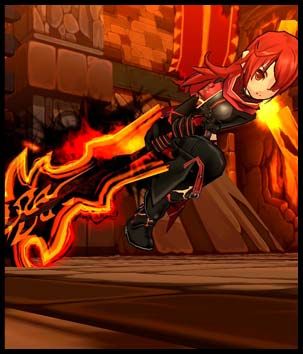 Until February 3rd, players that are level 15 or better can unlock the new Dark Knight Job Path mission. During this event period players have the chance to permanently boost one Elesis base character to Level 35 absolutely free. To participate, Complete the mission on any character and then create an Elesis character. When you login, you will be prompted by a pop-up, click through the prompt and your character will be boosted to level 35. Once the level boost has been activated successfully, players will receive an exclusive Level Boost Cube containing an enhanced weapon, armor set, and more!
From KOG Games
The people of Elder have been suffering oppression under the tyrannical reign of the sinister Lord Wally. Exploiting the ultimate power of the magical El, his blackhearted control over every man, woman and child has been unrelenting. Elesis, the honorable Red Knight, has done everything in her power to stop him… With Luichel's help, she's learned that virtue exists in many forms. Elesis has learned to destroy her opponents by harnessing the very darkness they've cast over the land.
Related:
Action
,
Anime
,
Elsword
,
MMORPG
,
Update