Well, we've gone from news that it's happening, to news of it's happening in August, to news that it's happening on August 2nd. That happening is the Monster Hunter World crossover event, which is bringing a whole lot more than just a simple Behemoth to the New World.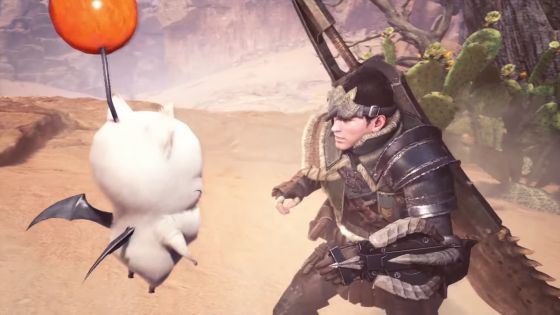 Naturally, the Behemoth hunt will be the leading feature of this collab as players are going to reportedly require "unique strategies" to battle it, as the creature sports impressive physical weapons and the ability to call down a powerful meteor.
The update has more Final Fantasy XIV callbacks than just that, however. The update will also let Insect Glaive users can dress up their weapon and Kinsect to resemble the Dragoon's signature Gae Bolg spear, while everyone can dress their armor up to look like the Drachen set from FFXIV.
There's also a Moogle outfit set for your Palico; Cactuar field traps that shoot off needles everywhere when triggered; an outfit that lets you dress your Poogie up like a Baby Behemoth; and evidently a fight against a giant-sized Kulu-Ya-Ku, who apparently has been granted its newfound girth by clutching onto a version of the Hydaelyn crystal.
Enjoy all of the FFXIV references you can handle in the trailer below.
Our Thoughts
Wow, they really went all in on this collab event! We were kind of expecting this to be just a few little fluff pieces and a Behemoth fight, but we have to say that the quality of said fluff pieces is pretty high indeed. We suspect fans of both games will find lots to enjoy with this collab.
Source: official site
Related:
ffxiv
,
Final Fantasy XIV
,
Monster Hunter World
,
Multiplayer
,
News