Update – April 6th, 2017
A few hours ago the ESL Guild Wars 2 Twitter account posted a clarification regarding this news that confirms that Guild Wars 2 eSports is not being shut down entirely, it is only the ESL Play activities that are going away at this time.
Due to misunderstandings: We are only talking about our #ESLPlay activities, which will end after today's cup. https://t.co/tmaEbQmGUJ

— ESL Guild Wars 2 (@ESLGW2) April 6, 2017
This does not exclude us to do any GW2 activities in the future as we had a great time with the game and the community in the past years.

— ESL Guild Wars 2 (@ESLGW2) April 6, 2017
Original Story
An official news post from ESL has stated that the Guild Wars 2 section of its eSports competition website will be shut down next week.  Currently, there is still one more tournament pending for any players still looking for one last taste of GW2 ESL action.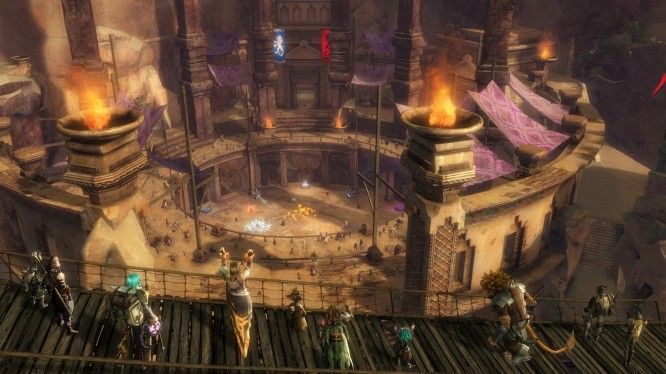 It seems that ESL is removing Guild Wars 2 from its eSports roster, and although there was no official reason given, it's likely due to a lack of participation. Throughout the last year, there have only been a handful of players and teams participating in Guild Wars 2 tournaments through ESL.
Many tournaments were simply cancelled due to not meeting the minimum requirements, and most that did take place had less than 5 teams (or 20 players for 1v1 tournaments) participating. Furthermore, there hasn't been a North American tournament since the Christmas Cup on December 21, 2016, which only included 3 players.
There are a number of possibilities as to why the numbers for GW2 ESL have been dwindling, such as more casual players focusing on in-game seasons, competitive teams hosting their own scrimmages, or the overall player base and drive for semi-competitive PvP dropping.
For those players still looking to participate, there is one more tournament scheduled this week. The final tournament will be a 1vs1 challenge, which will take place on April 6 at 20:00 CEST.
Our Thoughts
MMORPGs in general have had a difficult time gaining traction in North American eSports, which has been dominated by MOBAs and first-person shooters. It's unfortunate to see Guild Wars 2 get dropped from ESL, but judging by the number of recent participants, there won't be many players upset.
Related Articles
ArenaNet and WeLoveFine Partner for Guild Wars 2 Merch
Guild Wars 2 Balance Patch Tweaks All the Classes
Guild Wars 2 Confirms the Super Adventure Festival
Source: ESL
Related:
ArenaNet
,
ESL
,
eSports
,
Guild Wars 2
,
MMORPG
,
News