In the upcoming Thieves Guild DLC pack for The Elder Scrolls Online, players will be able to form groups quicker with the updated Grouping Tool.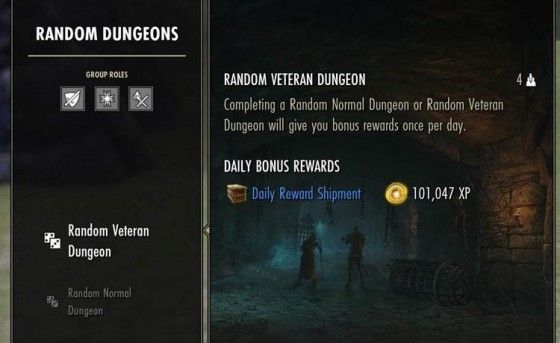 In an attempt to streamline grouping in ESO, ZeniMax is improving the functionality of the Grouping Tool and making it easier to understand. Now the role selection and activity types are consolidated into a single location. There will be tooltips describing what each role does and difficulty has been shifted to the Group tab instead of the Dungeon Finder tab.
Those who choose to utilize this new feature will also be rewarded. Players who complete a random Normal or Veteran dungeon will earn a blue-quality set piece from the Thieves Guild and a large experience bonus. The reward will be the same for Normal or Veteran dungeon completion and it can only be acquired once per day. However, if you want to keep playing dungeons there will still be rewards in the form of green-quality set pieces and small experience bonuses.
Another major improvement is the addition of cross-alliance grouping. You will be able to invite players from any alliance into your party and queue for any PvE dungeon; PvP dungeons will still be restricted to single alliances. Pre-made groups will also be able to use the tool to instantly teleport to dungeons, but they will be required to have a proper composition of 1 healer, 1 tank, and 2 DPS.
The Thieves Guild will be available for PC/Mac ESO players on March 7, March 22 for Xbox One, and March 23 for PlayStation 4 users.
Our Thoughts:
The new grouping features appear to be a major improvement over the current design in ESO. This should also be a great way to encourage players to run dungeons who normally don't through the added incentives and easier access.
Source: ZeniMax
Related:
Bethesda
,
MMORPG
,
News
,
The Elder Scrolls Online
,
Zenimax