The June 6th Morrowind global launch is going to be a…well…a global event. So, when does the upcoming MMO's expansion go live for you? A handy-dandy map has been provided to help you set your alarm clocks and put in your sick days for work.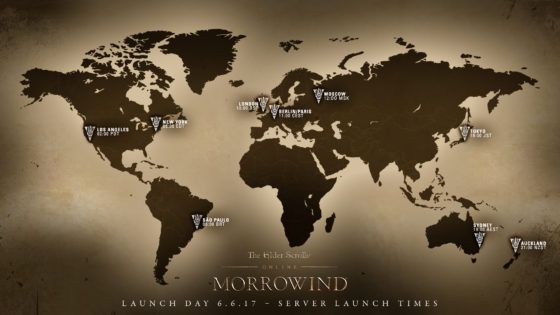 From Los Angeles, California to Auckland, New Zealand, practically every major timezone is covered for the Morrowind launch, which is set to begin at 5 am EDT/10 am BST.
In order to prepare for the global event, those who pre-ordered from retailers will be able to pick up their copies early in order to get the MMO pre-loaded. US residents can pick up their copies on Monday, June 5th starting at 9 pm EDT, while UK customers can get their copies on the morning of June 6th when stores open in their area.
PS4 and Xbox One players can expect maintenance before the expansion's launch starting at 5 am EDT on June 6th, while PC megaservers will remain online due to early access. Full details can be found on the official website.
Our Thoughts
Here's to a smooth and successful global launch! We're certain that there are still many players of ESO who are eager to begin exploring Vvardenfell, and we hope that everything goes off as smoothly as possible.
Source: press release
Articles Related to The Elder Scrolls Online
Morrowind Goes Over the Basics of Vvardenfell for Early Access
Reacting to TESO: Morrowind
The Elder Scrolls Online: Morrowind Closed Beta Preview
Related:
Global Release
,
MMORPG
,
News
,
The Elder Scrolls Online