The time for the next Elder Scrolls Online DLC is nigh. The Murkmire release dates has been officially unveiled for the PC and console versions, along with the arrival of prologue quests to pad the time between now and launch.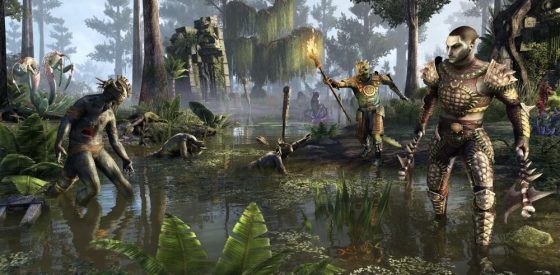 PC players can expect the Murkmire DLC to arrive on Monday, October 22nd, while PS4 and Xbox One players will get their DLC on Tuesday, November 6th. Until then, players can take up some prologue quests to get themselves prepared.
To get started, players have to head to the Crown Store to pick up the first quest for free or seek out the Cyrodilic Collections "Help Wanted" posters found in Vulkhel Guard, Daggerfall, or Davon's Watch. These quests task you with helping Concordia Mercius and Cyrodilic Collections with recovering looted Argoniean relics, while learning about the Black Marsh and the dangers awaiting in Murkmire along the way.
When the prologue's story quests have been completed, you'll get a Murkmire Grave-Stake memento. Clearing one of the six new daily prologue quests will also grant a reward box with several Murkmire-themed items, including one of seven fragments needed to create the Swamp Jelly pet.
Incidentally, the Murkmire DLC is being offered for free as part of a daily login campaign. Players must login for a total of 24 days in November to earn Murkmire as a Daily Reward.
Our Thoughts
While these prologue quests almost sound like an advertisement for the DLC on paper, we're glad to know that there's some manner of reward and lore surrounding these new events. Here's hoping that these prologue quests are entertaining enough to pad the time between now and Murkmire's launch!
Source: official site
Related:
Console
,
ESO
,
Launch Date
,
MMO
,
MMORPG
,
News
,
PC
,
Release Date
,
The Elder Scrolls Online