The sun will come out tomorrow, but more specifically the Eternal Dawn is out now in the MOBA Gigantic. The newest update to the game adds a new character to the roster, a new creature to the field, and some other new features.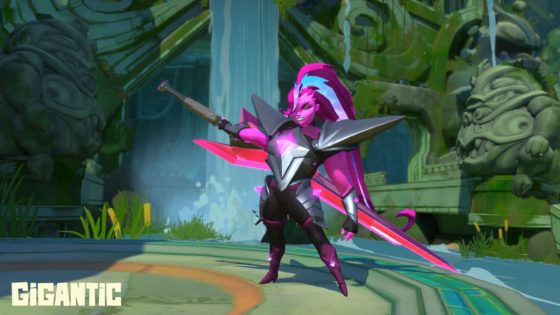 Zandora, the melee-minded support character, brings her very large lance to the field. While her attacks involve slicing things very hard, the majority of her kit involves the projection of auras that can improve haste, attack damage, and healing. Additionally, her regular attacks continue to extend whatever aura she has active, making her a valuable asset to aggressive pushes.
A new competitive leaderboard is also live, letting players know where they stand on a separate website. The Eternal Dawn update also brings the Storm Drake creature, which is capable of unleashing chained lightning attacks against foes. A unique skin for Zandora and 18 "Eternal Light' weapon skins have also been introduced.
In the coming weeks, Champion of Aurion skins will be added to Gigantic, with a skin for Beckett releasing on March 9th, a skin for Vadasi on March 16th, and a skin for Voden on March 23rd.
Eternal Dawn is out now on Xbox One and Windows 10, with the Arc version due later after testing. Patch notes for the Eternal Dawn update can be read here, and a trailer for the update can be viewed below.
Our Thoughts
Zandora sounds like a pretty integral part of the team makeup in Gigantic now, with her aura abilities offering some awesome-sounding buffs. Tied with the fact that those auras last longer with every attack, she sounds like the perfect character for aggressive players. We're intrigued to see how she fits in!
Your Thoughts
Have you had some hands-on time with the Eternal Dawn update? What do you think of the new character? Do you think any changes need to be made to Gigantic? Give us your take in the comments section below.
Source: press release
Articles Related to Gigantic
Gigantic Exile in the North Launches Today
Gigantic Open Beta is Live
A Gigantic Preview
Related:
eSports
,
Gigantic
,
MOBA
,
News
,
Update